Australia Goes 'O'verboard For Oprah!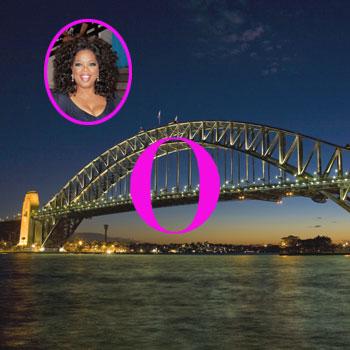 In one of her biggest giveaways yet, Oprah Winfrey is taking her entire studio audience to Australia next week and RadarOnline.com has learned the land down under is going all out for daytime talk show queen, complete with her trademark "O" adorning their Harbour Bridge.
VIDEO: Oprah Gives Away Biggest Cruise On Farewell Favorite Things Episode
Oprah's Outback adventure is already estimated to be costing more than $3 million in expenses for her 300 audience members as well as dozens of production crew and while her presence is bound to boost tourism in Australia, they'll also have to beef up security for her.
Article continues below advertisement
The Harbour Bridge is one of Sydney's most famous landmarks and it has been reported that engineers and designers have been working on plans to erect the big "O" for nearly a month.
The same publication is also reporting that the Intercontinental Hotel will serve as headquarters for Harpo Productions and that several staff members have already checked in.
As part of her 25th and final season, Oprah will be recording the two shows in Australia on December 14.