Exclusive
POLICE REPORT: Teen Mom Amber Pushed Outside In Underwear By Ex-Boyfriend, Calls Police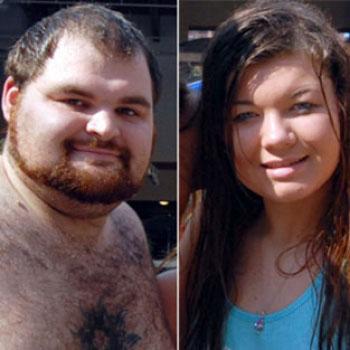 Teen Mom star Amber Portwood and her on-again/off-again boyfriend Gary Shirley just can't keep their hands off each and local law enforcement are becoming a regular sight around the house as a result.
After coming under fire for smacking her baby-daddy Gary on national television, the tables turned on October 20 when Amber called police, claiming she was pushed out of her Indiana home by Gary while in her underwear!
Article continues below advertisement
READ THE POLICE REPORT
According to the police report obtained by RadarOnline.com, Madison County Sheriff Lt. Timothy Basey and Officer Adam Stephenson responded to the domestic disturbance incident in the early morning hours and quickly separated the couple to question them about the incident.
Gary explained to Lt. Basey that while the couple was watching a movie, Amber "got mad" when he received a text from a male friend but Amber thought it was from a girl!
Gary told the lieutenant that Amber "had a history of battering him" and, according to the report, "Gary advised he went outside and Amber followed him and she threatened to batter him…and he did push her outside so she would not hit him."
In telling her side of the story to Lt. Basey, Amber explained that she was never punched but Gary "pushed her out the doorway" while she was wearing her underwear and admitted to being upset by the text message.
Article continues below advertisement
She claimed she was uninjured, according to police, but seemed "very stressed out" about the current domestic violence investigation by Anderson Police Department.
"I saw no redness on her left arm where she advised Gary grabbed her," the police report stated. "She advised she had a lot of stress from a pending battery investigation by Anderson Police Department where she supposedly battered Gary during filming of the MTV reality show Teen Mom."
As RadarOnline.com first reported, Amber has agreed to allow Indiana's child protective services to monitor her for up to six months in the wake of her televised assault on Gary, which sparked hundreds of public complaints questioning her suitability to be a mother.
In the episode that aired in September on the hit MTV reality show, Portwood was caught on tape hitting and kicking Gary, leading to a flood of calls to the state's watchdog.
Article continues below advertisement
On the night in question, the Indiana Department of Child Services hotline received 70 calls alone and the current tally is in excess of 300.
At the conclusion of the incident on October 20, Amber advised the sheriffs' she wanted to leave and get away from Gary but was unable to take their young daughter with her due to her apartment having everything boxed up and she didn't want Gary to tell everyone she was abandoning her baby because she wasn't.