PHOTOS: Happy 48th Birthday Demi Moore! A Look At Her Life (So Far!)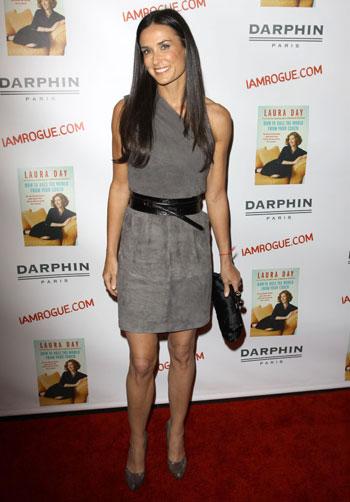 Though it's hard to believe that the gorgeous actress is a day over 40, Mrs. Ashton Kutcher celebrated her 48th birthday on Thursday. After making her mark in the early 1980's in such movies as Blame it on Rio and St. Elmo's Fire, Demi Moore has managed to become one of the most celebrated big screen babes in the history of Hollywood.
RadarOnline.com celebrates Demi's life, with photo gallery of the stunning star through the years.
Article continues below advertisement
During the 1980's and 1990's Demi was definitely a trendsetter, wearing outrageous getups on red carpets. Sweet faced and gorgeous, the starlet ran with the legendary Brat Pack and dated heartthrobs such as John Stamos and Emilio Estevez before settling down with action superstar Bruce Willis.
No stranger to the worst dressed list, Demi's biggest flop of all time occurred at the 1989 Academy Awards, when she decided to design her own red carpet attire. Showing up to the show in a lacy spandex biker short/corseted creation landed the beauty on every Worst Dressed list.
After Demi and Bruce took on their biggest role of their lifetimes- parenthood- the two escaped Hollywood and fled to Idaho, where they owned a ranch. Taking long break from the glamour and glitz of city life, Demi barely tread on a red carpet. When she was spotted, her look was dowdy and frumpy, wearing jeans and oversized shirts, baseball caps and large sweatshirts.
As the marriage crumbled, Demi came out of hiding in a dramatic way. It was rumored that actress underwent a series of expensive plastic surgeries which made her appear decades younger.
Article continues below advertisement
She flaunted her new bod in Charlie's Angeles: Full Throttle and started stepping out in sophisticated and glam gear. Her style had changed noticeably and she opted for monochromatic and timeless looks instead of trying out the trends.
Now a member of the Cougar club thanks to marriage to heartthrob Ashton Kutcher, Demi continues to dazzle the world with her stunning looks and charitable contributions.