Exclusive
EXCLUSIVE: Mel Gibson's Beaver Poster 'Didn't Fare Well' In Focus Groups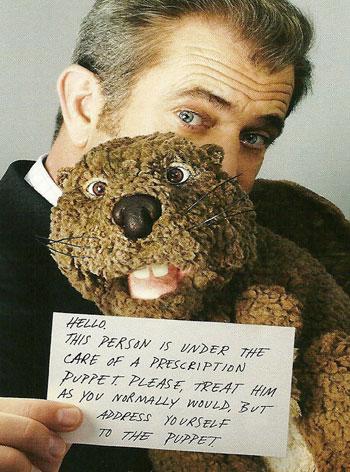 Mel Gibson's latest flick The Beaver is described as a dark comedy, but RadarOnline.com has learned that it's no laughing matter because no one, in a recent focus group, said they would see the movie based on this tease poster!
"There were numerous focus groups brought in and shown this movie poster and not one person said they would go see the movie," an industry insider told RadarOnline.com.
"Not one. It was a devastating blow to marketing and they've been scrambling trying to figure out what to do."
Article continues below advertisement
According to the source, the sight of Gibson on the posters was an immediate turnoff to viewers, undoubtedly stemming from the expletive laced and hate fueled rants released by RadarOnline.com.
"Hello. This person is under the care of a prescription puppet," the sign Gibson is holding in the poster reads.
"Please, treat him as you normally would, but address yourself to the puppet."
The movie co-stars Jodie Foster who also directed it – and who also had her own run-in with negative press this year.
Foster was accused of assaulting a 17-year-old boy at The Grove shopping center in Los Angeles after she claimed he was a "professional paparazzo" who was taking pictures of her and scaring her children.
"Ms. Foster viciously attacked me for taking a photo which was totally uncalled for and it scares me to think that we live in a society where it's really okay to hit people if you're a celebrity in Hollywood or if you are rich and famous," the teenager told RadarOnline.com.
Article continues below advertisement
No criminal charges were pressed against the Oscar-winning actress, but the teenage boy's family says they plan on filing a civil lawsuit.
Foster famously defended Gibson to MORE magazine saying, "When you love a friend, you don't abandon them when they're struggling. He is and has been a true and loyal friend. I hope I can help him get through this dark moment."
No release date has been set for The Beaver so only time will tell if movie execs are as forgiving to Gibson as Foster was.