PHOTOS: Oksana Throws First Birthday Party For Baby She Had With Mel Gibson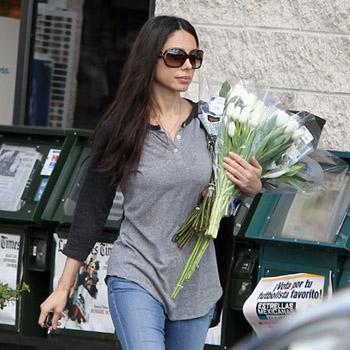 Her ongoing battle against Mel Gibson, didn't put a damper on Oksana Grigorieva's plans to celebrate their daughter Lucia's first birthday Saturday, RadarOnline.com has learned.
Oksana bought several bouquets of flowers, including white tulips, earlier in the day to decorate the house she shares with her daughter and her teenage son by Timothy Dalton.
Mel owns the house, in LA's Sherman Oaks district, but he was obviously not among the party guests.
Article continues below advertisement
In the former couple's hotly disputed case over custody and support of Lucia, Mel's team wants to deduct $6,000 a month in "rent" for the house from the $20,000 a month the court has ordered him to pay.
Timothy Dalton was at the celebration for Lucia, along with several other of Oksana's friends and supporters.
Oksana and Mel are back in court November 10 on the child support dispute.
Related Stories: