EXCLUSIVE INTERVIEW: Jennifer Mee's Mom: 'Tourette's Played A Role' In Murder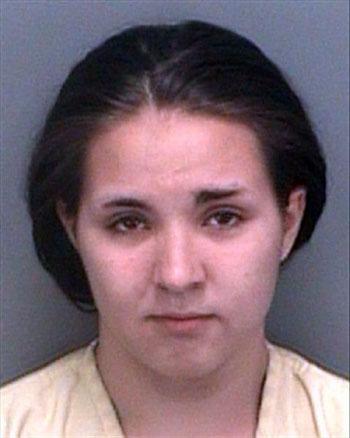 The mother of teenage "Hiccup Girl" Jennifer Mee has told RadarOnline.com that her daughter's Tourette's syndrome played a role in her involvement with a horrific murder case.
The infamous teenager and two men are accused of killing Shannon Griffin, 22, in a robbery on October 23 for between $50 and $60 in St Petersburg, Florida, which went tragically wrong.
Mee, Lamont Antonio Newton, 22, and Laron Cordale Raiford, 20, were arrested October 24 on charges of first-degree murder – they are all being held without bail.
Article continues below advertisement
EXCLUSIVE DOCUMENT: Read The Police Report
Her mom Rachel Robidoux told RadarOnline.com: "Absolutely, my daughter's Tourette's would have played a role here.
"I have not been able to see her since she was taken to jail, so, I don't really know how she is doing at the present time."
Mee's lawyer John Trevena also believes that his client's unusual medical condition could have played a role in the robbery and that he might be able to use it as part of her defense case.
"That is going to be a pivotal issue in the case," he said.
EXCLUSIVE PHOTO: The Smiling Mug Shot Of TV's 'Raising Sextuplets' Dad
Mee announced two years ago that she suffered from Tourette's syndrome - it is an inherited neuropsychiatric disorder with onset in childhood, characterized by multiple physical (motor) tics and at least one vocal (phonic) tic; these tics characteristically wax and wane.
"It was a much more serious neurological condition than anyone really realized," added Trevena.
Article continues below advertisement
Mee gained international fame when she was 15 for her extreme case of the hiccups, which lasted nearly six weeks.
Her family said that even after that long bout of hiccups, she continued to be plagued with the condition, sometimes getting hiccups for a week or weeks at a time.
EXCLUSIVE INTERVIEW: 'Hiccup Girl's' Mom Tells Radar: 'My Daughter Is Not A Cold Blooded Killer'
Mee's grandfather, Robert McCauley, said she continued to fight her hiccup problem in recent years, and even obtained disability payments from Social Security.
Trevena said if Mee's condition was serious enough to obtain disability payments, it might be serious enough to use in her case although he has to find-out more about her condition.
He said he will contact prosecutors soon and see if there is any possibility of a lesser charge than first-degree murder.
The lawyer admitted that he has been inundated with media offers to get Mee back on television following her arrest – she famously appeared on The Today Show where she was interviewed by Matt Lauer.
Article continues below advertisement
Mee had been living a transient life before she was charged with murder, an investigator revealed to NBC's The Today Show on Tuesday.
Maj. Mike Kovacsev of the St. Petersburg police told Today that police had records of about a dozen "contacts" with Mee throughout the past year at a series of different addresses.
'Hiccup Girl' Charged With First-Degree Felony Murder
"She didn't actually live on the street, but was transient in nature because she tended to live in different motels or apartments and moved from one location to another," he said.
"Sometimes when you live a little bit of a transient lifestyle you tend to hang around some unsavory individuals," Kovacsev said.
He said the two men charged with Mee had "minimal criminal records", but that her ex-boyfriend was in jail for robbery.
Meanwhile, Kovacsev told ABC's Good Morning America that police had talked with Mee regarding several domestic-related incidents.
"She was never a suspect in any cases, she has no criminal record up to this point, but she was a victim and a subject and several times a witness to several crimes," he said.