Exclusive
EXCLUSIVE INTERVIEW: 'Hiccup Girl's' Mom Tells Radar: 'My Daughter Is Not A Cold Blooded Killer'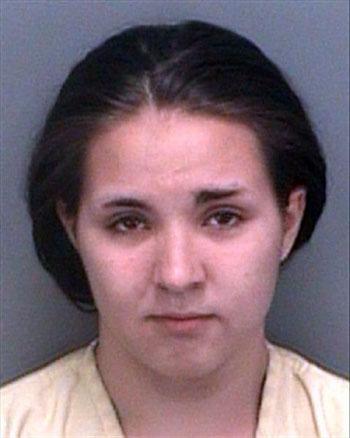 The mother of the Hiccup Girl — the woman who spent nearly six weeks searching for a remedy for her non-stop bout of hiccups in 2007 — has told RadarOnline.com her daughter is NOT a "cold blooded killer".
"They are making her out to be a cold blooded killer and that is simply not my daughter," Rachel Robidoux told RadarOnline.com about Jennifer Anne Mee, 19, who has been arrested for first degree murder.
Article continues below advertisement
"She would help somebody before she would ever think of hurting them, she just got in the wrong crowd."
Jennifer and two men were arrested in St. Petersburg, Florida, Sunday and charged with killing Shannon Griffin, 22, who died from multiple gunshot wounds.
Two other men, Lamont Newton and Laron Raiford, were arrested and charged with first degree felony murder.
"In my heart, because I know Jennifer and I know how caring she is, I think that when this went down not only was she coerced but maybe threatened into doing it."
Jennifer's mother told RadarOnline.com that Jennifer is dating one of the men charged in the killing, Lamont Newton and she was living with him, Laron Raiford and Raiford's girlfriend.
She said that she has met Newton a few times and "he seemed quite quiet".
She said she had never heard Shannon Griffin's name before.
EXCLUSIVE: Prison Guard Who Sold Joran van der Sloot Drugs Being Probed By Cops
Rachel told RadarOnline.com that she had a theory about her daughter's involvement in the murder.
Article continues below advertisement
She said, "Jennifer would never come up with something like this and do it on her own. She was either forced into doing it or felt like there was going to be some harm to her if she didn't do it.
"I think that she got caught up with the wrong crowd and wanted to fit in and made some really stupid decisions."
"I spoke with her last night for about 30 seconds that was all I was allowed to speak with her when she called me. I was asleep the phone call actually woke me up. I just know it felt like a bad dream, it still feels like a bad dream."
"This is not my daughter. She would never do something like this."
VIDEO: Natalee Holloway's Mother Tells Joran van der Sloot There's No Hate In Her Soul
Mee, Newton and Raiford are being held without bail in Pinellas County, Florida.
Jennifer's mother said she is on her way to meet with a lawyer to help defend her daughter against the charges.
"She has always been my daughter and best friend; she started hanging out with the wrong crowd," she said.