VIDEO: Natalee Holloway's Mother Tells Joran van der Sloot There's No Hate In Her Soul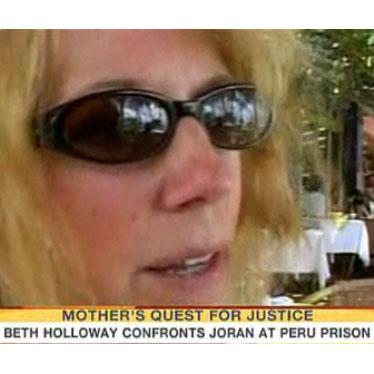 Natalee Holloway's mother told Joran van der Sloot in a surprise face-to-face meeting this week that she has no hate in her soul for him, and that now is the time for him to open up about disappearance of her daughter, according to van der Sloot's lawyer.
Watch the clip on RadarOnline.com
Beth Holloway Twitty and a Dutch TV crew Wednesday visited Castro Castro, the prison where van der Sloot's being held in connection with accusations he killed Stephany Ramirez Flores, a 21-year-old Peruvian woman.
Article continues below advertisement
Van der Sloot's lawyer Maximo Altez told NBC that their intention was "to create a TV special which would include her, the Flores family, and an interview with Joran van der Sloot" and that "the Dutch media snuck Beth Holloway-Twitty into Castro Castro without identifying who she was and put her face-to-face with van der Sloot."
The trip and subsequent meeting, according to Holloway family attorney John Q. Kelly, was spurred on by an interview van der Sloot gave earlier this month in which he contritely admitted he'd lied in his extortion of the Holloway family, who wanted information on the missing Alabama teenager.
"There were people who were paying me to make up stories and I was really good at making up stories," van der Sloot said in the September 7 interview, which was licensed to NBC. "I misused the situation for my own advantage... I feel bad about that... if I could change that, I would take it back."
Visit msnbc.com for breaking news, world news, and news about the economy
Kelly told The Today Show Friday that "what triggered the surprise visit was that he said in this interview that she had been pestering him.
Article continues below advertisement
"The message was, 'If you thought you'd been pestered before, you ain't seen nothing yet,'" Kelly said. "I just think she wanted him to know she wasn't going away."
Kelly said Holloway Twitty did not tell him she was going on the trip, probably so he wouldn't talk her out of it. He said she told him she just wanted to see van der Sloot, and was "very guarded" during the visit.
Kelly said Holloway Twitty did nothing illegal, and that he doesn't think the visit will impact the extortion charges van der Sloot faces in the states.