Exclusive
EXCLUSIVE: 'Hiccup Girl' Murder Suspect Crying While Behind Bars, Lawyer Reveals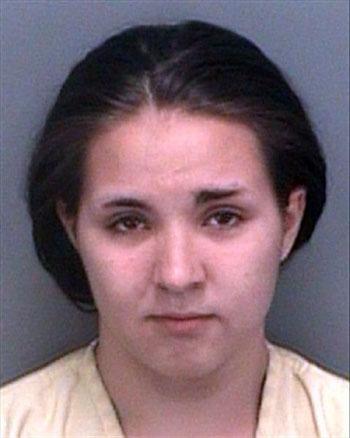 The mother of "devastated" 'Hiccup Girl' - the teenager accused of killing a man during a robbery - has hired a lawyer to fight murder charges, RadarOnline.com has exclusively learned.
"He's going to defend my daughter," Rachel Robidoux told RadarOnline.com in an exclusive interview.
EXCLUSIVE INTERVIEW: 'Hiccup Girl's' Mom Tells Radar: 'My Daughter Is Not A Cold Blooded Killer'
Jennifer Mee, 19, once plagued by uncontrollable hiccups, was arrested and charged Sunday - along with two men, Laron Raiford and Lamont Newton - hours after Shannon Griffin was allegedly lured to a vacant home, where he was robbed of between $50 and $60 and killed.
Article continues below advertisement
He was shot several times, according to cops.
The lawyer, John Trevino, met with Mee for the first time on Monday night, at a jail in Pinellas County, Florida, where she is behind held without bail.
"She's extremely emotional," Trevino told RadarOnline.com.
"During parts of our visitation she was crying. She has absolutely no prior record. She's never been to jail. This is a devastating experience for her."
Robidoux told RadarOnline.com in a previous interview that her daughter had "spiraled downwards" after beginning to date one of the men charged in the killing -- has not yet seen her daughter.
"I don't know when I'm going to be able to see her yet," she said, "I haven't spoken with Jennifer since last night (Sunday)."
The victim "friended" 'Hiccup Girl' on a social networking site last week, and the two exchanged messages in subsequent days, according to St. Petersburg, Florida, police.
Article continues below advertisement
Law enforcement authorities do not believe Mee or Griffin, a Wal-Mart employee who had recently moved to Florida from the Gulf Coast, knew each other prior to their online encounter.
After telling family members around 10 pm that he was heading out to meet a woman, Griffin rode his scooter to a vacant home where he had his first face-to-face encounter with Mee, police said.
Mee led Griffin around to the back, where Raiford and Newton were armed and waiting, according to police.
Trevino told RadarOnline.com said he planned to re-address the issue of bond.
In another new revelation, Mee had living a transient life before she was charged with murder, an investigator told NBC's The Today Show on Tuesday.
Maj. Mike Kovacsev of the St. Petersburg police told Today that police had records of about a dozen "contacts" with Mee throughout the past year at a series of different addresses.
Article continues below advertisement
"She didn't actually live on the street, but was transient in nature because she tended to live in different motels or apartments and moved from one location to another," he said.
"Sometimes when you live a little bit of a transient lifestyle you tend to hang around some unsavory individuals," Kovacsev said. He said the two men charged with Mee had "minimal criminal records", but that her ex-boyfriend was in jail for robbery.
Meanwhile, Kovacsev told ABC's Good Morning America that police had talked with Mee regarding several domestic-related incidents.
"She was never a suspect in any cases, she has no criminal record up to this point, but she was a victim and a subject and several times a witness to several crimes," he said.
RELATED STORIES:
Man Claims Cocaine Found Up His Butt Isn't His