DETAILS: Katy Perry And Russell Brand Plan A Week Of Wedding Partying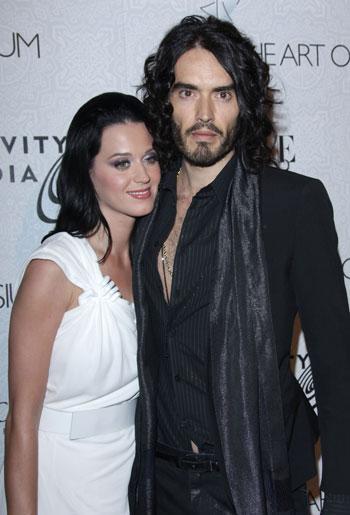 Katy Perry and Russell Brand sure know how to throw a good party!
The quirky couple is planning a six-day wedding blitz for all their friends and family who are headed around the world to India this weekend to celebrate their nuptials, RadarOnline.com has learned.
Rajasthan Tours manager Mohan Singh was hired to organize some of the wedding events and told the Press Association that the duo is planning a Hindu wedding ceremony at a luxurious resort outside the Ranthambhore tiger sanctuary near Jaipur -- with a week of celebrating to start on Saturday.
Article continues below advertisement
"This would be a colorful Rajasthan wedding, and both Brand and Perry would be attired in Indian wedding attires," Singh said.
The Hindustan Times reports that Perry sported a gold nose ring when she arrived in India, a tradition for Indian brides.
Singh said his company and several others are planning the wedding-related festivities, including renting 13 vehicles to take some of Brand and Perry's estimated 80 guests on tours of the tiger sanctuary in the days following the wedding.
VIDEO & PHOTOS: Red-Hot Rihanna - Behind The Scenes Of Music Video Shoot
The pop star and her comedian fiancé will spend their first days of wedded bliss in a luxury tent at the Aman-i-Khas resort, with guests staying close-by at Vanyavilas and Sher Bagh resorts, where private security has been set up.
The Rajasthan police said they had not been informed of the approaching nuptials so the newlyweds may have to call it an early night.
Article continues below advertisement
"We have no clue about the celebrations. But we would not allow playing of musical instruments and blaring loudspeakers after 10 in the night," Sawaimadhopur district police chief Vishnu Kant said. "We are bound by the Indian laws."
Other restrictions also include fireworks and various loud noises that could disturb guests and wildlife.
Russell Brand Assaults a Paparazzo
The couple is keeping quiet about their big day and has even reached out to fans on Twitter for privacy:
"Greatest gift u can give us is respect & ♥ during this private X," Katy tweeted.
VIDEO: Katy Perry & Lady Gaga Inspire Dancing Flight Attendants
The couple reportedly sent out wedding invitations with little detail, saying only that they were getting married in India and the celebrations would last for up to a week.
The Hollywood power couple started dating in September 2009 and got engaged only a few months later when the Get Him To The Greek star proposed to the California Gurls songstress while on a vacation in India.