PHOTOS: The Hottest Bikini Moms In Hollywood!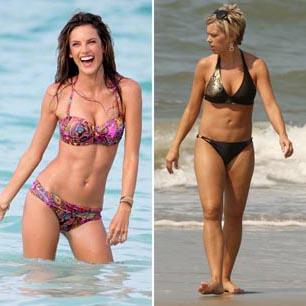 These women have it all - covetable careers, fulfilling families and smoking hot bikini bods! RadarOnline.com has picked Hollywood's sexiest moms and stripped them down into their skimpy swimsuits!
It's hard to believe that eight babies popped out of Kate Gosselin's taut tummy! The single mother manages to juggle all the duties of motherhood and a career in reality television, while still making time to hit the gym.? It is well worth it when she hits the beach in her bikini, because she definitely makes a splash.
Article continues below advertisement
Alessandra Ambrosio, Gisele Bundchen and Camila Alves are all hot supermodel moms, who balance their catwalk careers with babies in the cradle. All three of these sexy models bounced back into their flawless figures almost immediately after their babies were born. That's why they get paid the big bucks!
Demi Moore is nearly 50-years-old and her kids are all grown up, but her body is still totally banging, while Heidi Klum manages motherhood like it is a walk in the park, staying in tip-top shape, even with her busy Project Runway schedule and ever-expanding brood.