Exclusive
EXCLUSIVE VIDEO: Jennifer Aniston Steps Out With Mystery Man For Dinner Date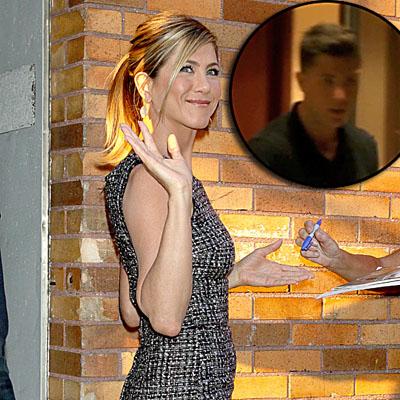 Forget speculation she is back with on-again, off-again flame John Mayer because Jennifer Aniston has a new 'friend' in her life, RadarOnline.com can exclusively reveal.
The actress is set to ignite rumors that she has a new boyfriend after she had an intimate dinner on Wednesday night with a handsome new man.
The 41-year-old star was spotted enjoying drinks, dinner and dessert at the luxurious Sunset Tower Hotel in Hollywood.
Article continues below advertisement
The pair sat at a corner table -- much to the interest of onlookers -- and later shared an ice-cream sundae in the exclusive restaurant, where they spent two-and-a-half hours together before leaving in separate cars.
Watch The Exclusive Video Of Aniston's New Mystery Man Below
Inside, Aniston looked relaxed in white jeans and a simple black tank top, while the man wore a white black shirt and dark pants.
"Jen was at a cozy corner table with a good looking younger man," an eyewitness told RadarOnline.com. "She was twirling her hair a lot and flirting shamelessly."
The witness said the duo got closer as the night progressed -- with many lingering touches on the arm by Jen -- and at one point Jen moved right next to him to flip through photos on his iPhone.
"Jen looked really good. She had on white jeans and a sexy black tank top," the source said.
MORE ON:
hollywood happenings
Article continues below advertisement
"When her mystery date left for the restroom, she took the opportunity to primp by reapplying her lipstick."
The eyewitness told RadarOnline.com Jen looked "a little nervous, putting her hair up in a loose bun and laughing at everything he said."
According to onlookers, Jen and her mystery man were so immersed in their conversation they hardly made a dent in their ice cream dessert.
And in true gentlemanly style, "the guy picked up the whole check" at the end of the night.