Jennifer Aniston's Credit Card Scam Suspect Released, Ordered To Wear Electronic Bracelet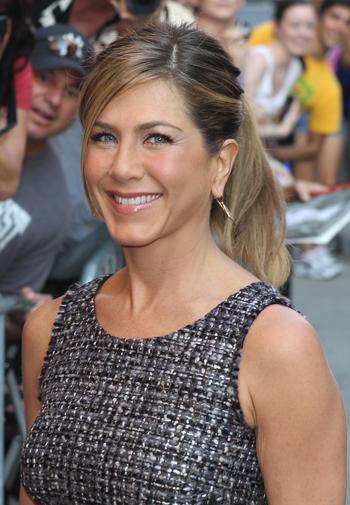 Maria Gabriella Perez - the woman accused of scamming nearly $300,000 in credit card charges from her A-list clientele including Jennifer Aniston- was released on $50,000 bail on Thursday, RadarOnline.com has learned.
VIDEO: Jennifer Aniston Says Credit Card Scam Suspect 'Not Cool'
Her mother, Irene Gonzalez, secured bail for her after putting up the family house to cover the costs. "We're very pleased that she was released. Maria is happy to be going home," her attorney Jerod Gunsberg told RadarOnline.com exclusively.
Article continues below advertisement
Her other attorney Stephen Kahn added, "At this point everything is very preliminary. She did not enter a plea because today was not an arraignment. It's very easy to make accusations but at this point everything we know so far has us believing that she is innocent."
Perez was present at the Thursday hearing in Los Angeles. She wore a grey, short sleeved lacy blouse, jeans, and handcuffs. She has been ordered to wear an electronic bracelet and must surrender her passport.
A post indictment hearing is scheduled for September 20 at 8:30 AM.
Perez is the owner of Beverly Hills salon Chez Gabriela Studio. According to investigators, she gathered information on clients like Aniston, Anne Hathaway and Liv Tyler, and charged their cards without authorization after they paid for her services.
Tyler's cards were racked up with $214,000 in fraudulent charges in 2009 from the salon, investigators said. She faces two counts of fraud that carries a maximum prison sentence of 25 years if she is convicted.