Restraining Order Against Jennifer Aniston's Stalker Extended By 3 Years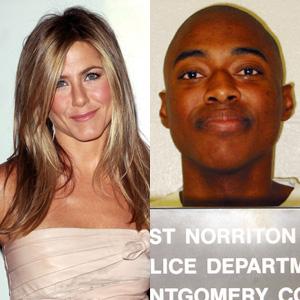 Jennifer Aniston has won a permanent restraining order against a delusional stalker who told authorities he intended to marry the Friends star, RadarOnline.com has learned.
Aniston had previously gotten a temporary restraining order - or TRO - against Jason R. Peyton, but on Monday, a judge in Santa Monica, California extended it for three years.
According to the restraining order, Peyton must stay 100 yards away from her home, places of work and vehicles. Peyton must also stay clear of her employees, agents, managers and other reps.
Article continues below advertisement
Neither Aniston nor Peyton were in court Monday; he remains on involuntary psychiatric hold.
Last month, lawyers for Aniston obtained the TRO against Peyton after he was arrested for stalking The Switch star.
In a signed court declaration, Aniston said that "delusional" Peyton had made her fear for her safety.
Aniston stated, "Mr. Peyton has aggressively sought to have personal contact with me and integrate himself into my life.
"'Due to Mr. Peyton's delusional compulsion and increasingly harassing, stalking and threatening conduct, I have been subjected to a course of conduct which has and is seriously alarming, annoying and harassing me.
"Mr. Peyton's ongoing, ever-increasing, aggressive and harassing conduct are extremely distressing. I fear for my personal safe
ty and that of those around me."
Police arrested the 24-year-old man who had traveled cross-country with the intention of marrying the actress.
Article continues below advertisement
When police took him into custody, he was carrying a sharp object, duct tape and love notes to her.
Among the messages he had written to himself were brief notes reading "Jen told me she wants me to be the father of her children" and "Call Jen", as well as a list of potential baby names.
The filings state Peyton - who has a history of violence and stalking - even scratched 'I love Jennifer Aniston' on his car.
Peyton has been diagnosed as a delusional and paranoid schizophrenic. He was put on an involuntary psychiatric hold by Los Angeles police.
Authorities say Peyton had been institutionalized before, and was ordered to take antipsychotic drugs, which he stopped taking in March.