Friends Forever: Jennifer Aniston To Appear On Courteney Cox's Cougar Town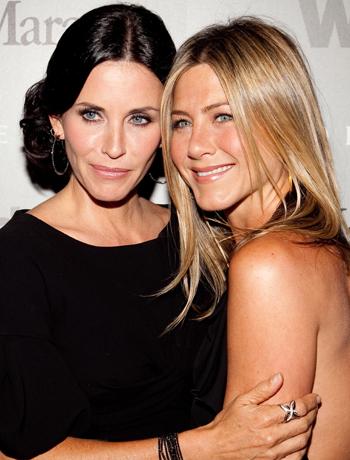 Courteney Cox will get by with a little (ratings) help from her friends -- literally.
The Cougar Town star will reunite with longtime Friends co-star Jennifer Aniston for a cameo on the second-season premiere of the steamy ABC hit, RadarOnline.com has learned.
"She's going to play Courteney's shrink named Bonnie," exec producer Bill Lawrence told Entertainment Weekly Monday. "Kind of a get-too-involved-in-her-life-type of therapist. Those guys are so close in real life they kind of do that for each other anyway. Bonnie has the life Jules wishes she has."
Article continues below advertisement
Aniston and Cox have only collaborated on one project since the glory days of Rachel and Monica -- a 2007 episode of Cox's then-FX show, Dirt.
Anne, Jennifer, Cher Among Stars Scammed By Salon Owner
Lawrence told the magazine that the actresses complement one another, particularly in the comedy genre.
"It starts and ends with Courteney and Jennifer being really great friends and excited to work together again -- especially doing comedy together," he said. "Every day that those two talk they have more ideas about the role. It's definitely something they're both involved in creatively."
Cougar Town's second-season premiere airs on ABC September 22; Aniston's new film, The Switch, is in theaters now.
RELATED STORIES: