Exclusive
EXCLUSIVE: Snooki 'Scared Me' Says Guy She Hooked Up With On Jersey Shore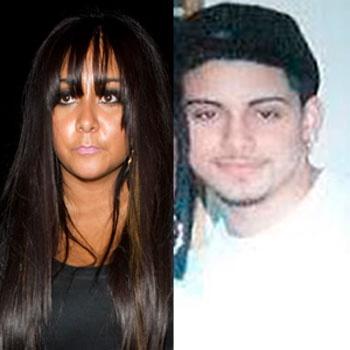 Snooki's latest on-screen conquest is speaking out about his tryst with the pint sized Jersey Shore star, telling RadarOnline.com exclusively that when he woke up in bed with her, his first thought was "What the hell have I done?"
Dennis Figueroa and Nicole "Snooki" Polizzi "smushed" on the show after meeting in a bar, and RadarOnline.com exclusively reported that he wasn't single and his girlfriend Lachia Damis claimed "Snooki stole my boyfriend."
Article continues below advertisement
"I haven't talked to her since that all happened," Dennis exclusively told RadarOnline.com about his 'smushing' partner Snooki. "When I woke up Snooki scared me," he said about the morning after his hook up with her. "It was like the movie The Hangover, the room was spinning."
The Situation (And The Abs) Join Dancing With The Stars
The in-room cameras showed the couple under the covers, and even though Dennis said he signed a packet with release forms and some crew took his picture before they went into the bedroom, he was drinking all weekend and has no memory of their bedroom antics. "I didn't know what happened, I figured I just passed out," he said.
Dennis described what Snooki looked like when he woke up in the bed with her. "Her hair was a mess, it was crazy and it looked like a mane. She was wearing little shorts and a tank top. She smelled like liquor and I was like oh my God, all I could think was what did I do?"
"I said, how the hell did I get here and she said we brought you here." He claims that they didn't even kiss the next day. "I just hugged her and she asked if I wanted anything and she got me some water and I left."
Article continues below advertisement
The 24-year-old club promoter told RadarOnline.com that Snooki should be grateful about their hookup. "It was a lucky deal for her that she got me to go home with her. In a normal state if I hadn't been drinking so much, it definitely wouldn't have happened."
He even posted a picture of a t-shirt that read "Team Snooki" on his Facebook page on August 15, but told RadarOnline.com "I don't like Snooki, the picture was a joke."
VIDEO: Snooki Lip-Synchs Britney Spears
As for his relationship with Lachia Damis, Dennis said that he was going to try and get her to forgive him.
See The Exclusive Facebook Posts
Dennis goes on to say, "I messed up big time. I'm going to be more aware now. I love Lachia and of course I want to make it work with her. I'm trying to repair my relationship, but I think it will take a while."
RELATED STORIES: