Exclusive
EXCLUSIVE: Oksana Questioned By District Attorney; Decision Whether To Charge Mel Imminent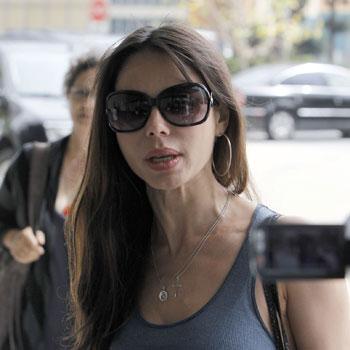 Oksana Grigorieva was interviewed Wednesday for more than two hours by the Los Angeles County District Attorney about the alleged smack down Mel Gibson dished out.
And RadarOnline.com has learned the crucial meeting paves the way for a decision whether criminal charges will be laid against the Lethal Weapon star.
"She spoke without reservation about every single topic," her attorney Daniel Horowitz told RadarOnline.com, exclusively.
Article continues below advertisement
"Oksana has never asserted the fifth amendment and if she is called upon to testify in any criminal case, she won't assert her fifth amendment right."
The D.A. had been seeking a follow-up interview with the Russian musician, who claims Gibson left her with two chipped teeth and a bruised eye after a brutal encounter at his Malibu mansion on January 6.
"The D.A. quizzed Oksana about the evidence — tapes, photos and correspondence — and what she previously told the cops," said one source, with knowledge of the criminal probe.
She was interviewed at the domestic violence branch and was represented by attorney Martin Garbus, one of the country's leading trial lawyers.
It is not known what detail the D.A. went into about Gibson's claims Grigorieva tried to extort millions from him.
Grigorieva had already met with the Los Angeles County Sheriff's Department investigators regarding the domestic abuse case.
Our source said: "The D.A. is being very thorough and had more questions for Oksana about what allegedly transpired on the fateful night in question and in the months that followed.
MORE ON:
Celebrity Justice
Article continues below advertisement
"Oksana's testimony is critical if the D.A. is to proceed with a domestic violence case against Mel."
We're told the interrogation was critical for the D.A. as it prepares to make a final judgment on the matter.
"A decision on whether Mel will face criminal charges would now be made within two to three weeks now that interview has been done," said the source.
RELATED STORIES: