Exclusive
EXCLUSIVE: The Secret Text Messages Mel Gibson Says Proves Oksana Tried To Extort Millions - Read Them Here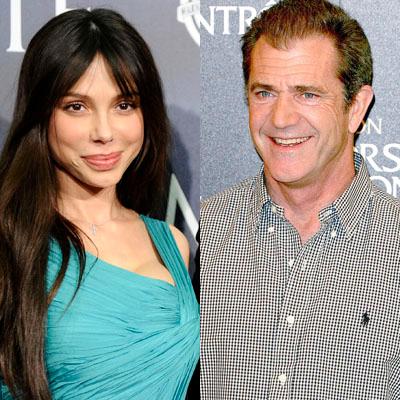 Mel Gibson's claims of extortion are hanging on a text message exchange in which his ex-lover Oksana Grigorieva admitted she played the expletive-laden audio tapes because the actor didn't keep his word and was "nowhere" near as generous to their daughter as he is to his other seven children.
RadarOnline.com has exclusively obtained the messages where the Russian musician claimed the Lethal Weapon star treated baby Lucia as "an illegitimate child".
Article continues below advertisement
The Los Angeles County District Attorney is considering whether to charge Grigorieva after Gibson alleged she engaged in attempted extortion against him.
Gibson has alleged Grigorieva demanded more than $10 million in exchange for not releasing his racist and violent rants, in which he is heard erupting into a tirade at his baby mama suggesting she looked like a "f***ing b**tch in heat" who could "get raped by a pack of n****rs".
This is the text message exchange, in its entirety:
OG: U r keep saying that ull take care of us in the most generous way. I wouldn't have played ur messages if u were keeping ur word. Even if u were just generous to Lucia, that would have been great. But u weren't. No where near the way u r generous with ur other children. U treated her as an illegitimate child. That's why I played the tapes. And my name wasn't mentioned at all.
Article continues below advertisement
MG: That is so unfair.
OG: Then ask Michelle what she Eric ur offer was.
OG: That was very unfare to ur daughter. I don't care about me.
MG: I didn't make an offer yet.
"These are the text messages that Mel's camp turned over the Sheriff's detectives as potential evidence of the extortion claim," said a source, close to the law enforcement investigation.
Team Gibson claimed it had "hard proof" and a "long trail of evidence" that Grigorieva tried to shake the actor down.
MORE ON:
Oksana Grigorieva
While the electronic conversation does provide investigators a window into the Russian's intent, it is far from the smoking gun touted to prove the volatile star's allegations against his one-time lover.
Under Californian law, someone can only be charged of extortion - or blackmail - if they have used force or threats to compel another to give them money or other property.
In the text message, Grigorieva admitted she had already played the audiotapes and tellingly insisted to Gibson "I don't care about me" -- implying that her interests were only for their infant daughter.
Article continues below advertisement
Grigorieva's spokesman, Steve Jaffe, has previously denied any wrongdoing on the part of the Russian singer.
"To specifically address the allegations, my client, Ms. Grigorieva, has repeatedly stated that there is no credible evidence whatsoever of extortion by her, and she stands steadfastly by that statement," Jaffe has told RadarOnline.com.
In California, extortion is typically charged as a felony, punishable by up to four years in the California State Prison and by a maximum