Exclusive
EXCLUSIVE: Jersey Shore's Angelina & Snooki's New Boyfriend In Strip Club Brawl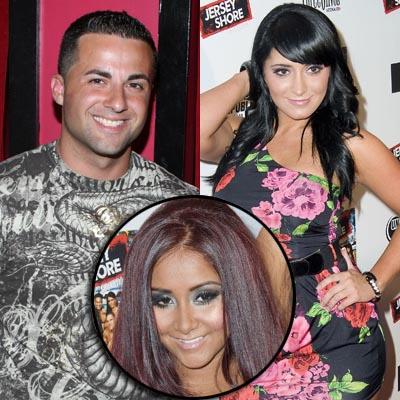 Jersey Shore star Angelina smashed a microphone in the face of Snooki's new boyfriend and threw drinks at him in a wild strip club brawl in New York on Wednesday, RadarOnline.com has exclusively learned.
Angelina was filming a web broadcast for Shovio.com at the Sapphire Gentlemen's Club when Snooki's man Jeff Miranda showed up unannounced and started accusing her of trashing his reputation.
The pair has attacked each other publicly, with Angelina declaring Jeff tried to date her as well as Snooki.
Article continues below advertisement
When Jeff arrived at the club and confronted Angelina, he told the show's host Chaunce Hayden that he had text messages from Angelina that he said proved she was involved with him.
"Jeff showed me text messages that he said were from Angelina that said something like?I still have feelings for you," Hayden told RadarOnline.com.
"Jeff was yelling that Angelina was jealous of his relationship with Snooki and that she is trying to break them up so she can date him."
Hayden said this is when things turned violent.
He said, "Angelina grabbed the microphone and started smashing him in the face with it over and over.? She hit him at least three times in his face. She was screaming and swearing, 'I'm going to kill you, you're a f**king liar."
Jeff was sitting when Angelina hit him with the microphone and didn't try to defend himself.
"He looked stunned," Hayden told RadarOnline.com. "He stood up like he was going to hit her and a group of people stopped him."
MORE ON:
Angelina Pivarnick
Article continues below advertisement
Angelina then grabbed drinks off a table and started throwing them at Jeff, Hayden said.
"She took all the booze on the table and started pouring it in his face and blinded him."
Hayden described the attack as "brutal."
He added, "I never saw somebody get beat that bad."
Jeff left the club without calling the police but was saying "look at my teeth, look at my mouth," according to Hayden.
"He kept saying 'I'm going to sue her, I'm going to sue her, but he was barely able to talk his face was so swollen and his teeth looked crooked."