Exclusive
EXCLUSIVE: Snooki's New Boyfriend Claims He's Being Blocked From Seeing Her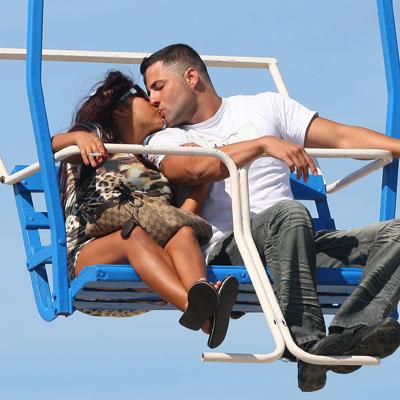 Nothing can stop true love, and in the case of Jeff Miranda, he is not going to let a simple Tweet get in his way. Snooki's boyfriend is now claiming that he's being blocked from seeing his true love, and RadarOnline.com has all the exclusive details.
Miranda proposed to Snooki on the cover of Steppin' Out magazine, which was reported exclusively on RadarOnline.com on Monday.
But the pint-sized Jersey Shore star turned him down via Twitter, and now Miranda claims the producers of the show are warning him to stop trying to contact Snooki.
Article continues below advertisement
RadarOnline.com has learned exclusively that Miranda told Chaunce Hayden from Steppin' Out magazine, "Ever since I've made it public that I want to marry Nicole, MTV's lawyers have been calling and yelling at me to shut up. They keep threatening me with lawsuits if I don't stop talking about her."
Jeff claims that he tried to visit Snooki at the Jersey Shore house on August 24, but the police guarding the set told him he had to leave and that he wasn't welcome.
"I'm not going to let 495 Productions keep us apart," he said.
"They don't want us to be a couple, and they're doing whatever they have to do to destroy our relationship. They stand to lose too much money if we're together. They need Nicole to be single, and they're going to see to it that she stays single."
VIDEO & PHOTOS: Jersey Shore Girls Cause Mayhem In Miami!
He also denies that it was Snooki sending the Tweet herself due to strict filming rules. "I know that wasn't Nicole who tweeted she wants to stay single. First of all, they don't allow them to use cell phones or computers in the house."
Article continues below advertisement
Jeff claims that Snooki is in love with him. "She told me the last time we were together in private when the cameras weren't on us that she wants to be with me and would give up the show for me."
Comparing his relationship with Snooki to Shakespeare, Jeff said, "it's like Romeo and Juliet against the big corporate machines. But she knows I love her and I know she cares about me.
"The truth is I love her and I want to be with her."
495 Productions did not return requests for comment.
RELATED STORIES: