Exclusive
EXCLUSIVE PHOTOS: Jersey Shore Cast Member Deena Snubbed By BFF J-WOWW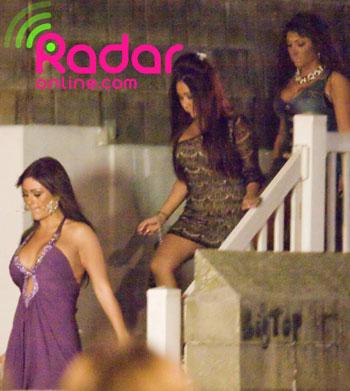 Jersey Shore's newest reality star Deena Cortese, hit Seaside Heights with a bang and fell right into step with fellow female cast mate J-WOWW.
But after her fall down drunken scene last week, Radaronline.com has exclusively learned that Deena is on the outs and J-WOWW and Snooki are back to being BFF's.
"Snooki and J-WOWW seemed to be inseparable," said a clubgoer.
"It was such a switch. J-WOWW and Deena were always together and Snooki was the 'third wheel'."
Article continues below advertisement
Just last week J-WOWW angrily peeled a wasted Deena off the ground outside Aztec bar.
But the girls returned Monday to their favorite hangout and within minutes, Snooki and J-WOWW took off to the outdoor patio for some 'girl talk' leaving Deena alone at the bar.
"Deena quickly shuffled up to the bar to talk with the local patrons and down some beverages," said our source.
"She seemed pretty content chair dancing at the bar and enjoying the company of the men that surrounded her."
When Snooki and J-WOWW returned to the New Jersey to shoot the third season together, RadarOnline.com exclusively reported that J-WOWW and Snooki were as close in their real life as they are at the shore.
"J-WOWW is like Snooki's big sister, she watches out for her and really keeps her out of trouble," said our source.
"When they aren't hanging out together, they text, BBM, tweet and talk all day on the phone. They really love each other."
Ironically, it was Snooki who brought her good friend Deena to join the cast and although it originally seemed to cause troubles between the BFF's, the pair is back on track.
Related Stories: