Exclusive
EXCLUSIVE: Jersey Shore's Angelina Has 'Fatal Attraction' To Snooki's Boyfriend, He Claims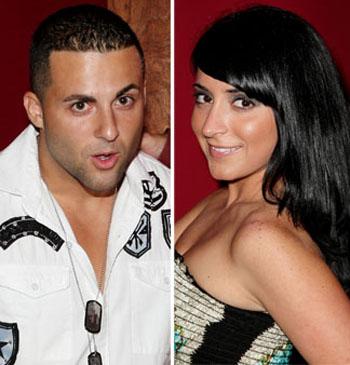 Jersey Shore star Angelina smashed a microphone into the face of Snooki's new boyfriend while at a strip club Wednesday night and he told RadarOnline.com it was the result of jealousy.
Jeff Miranda called Angelina "a complete nut case" and told RadarOnline.com, "The girl is crazy. She's a liar and now everyone knows it."
Jeff is referring to the text messages he had from Angelina proving that she still has the hots for him, which he willingly showed to all those at the club Wednesday night.
Article continues below advertisement
"What is this, fatal attraction?" Jeff said of Angelina's messages.
As RadarOnline.com was first to report Angelina attacked Jeff at Sapphire Gentleman's Club in New York leaving him "barely able to talk" because his face was so swollen and "his teeth looked crooked."
"She texts me telling me how she wants to be with me and says she doesn't know why I'm with Snooki," Jeff said.
"Even her boyfriend was there in the room, and I showed him the messages as well. I totally caught her in the biggest lie ever and right in front of her boyfriend."
Jeff told RadarOnline.com that's when Angelina lost it.
"She started cursing me out told me she'd punch me in the face and even said she would 'kill me'," he said. "She took the microphone and hit me in the mouth with it. Chipped my f**king tooth!"
Jeff said he is seeking medical assistance but is unsure if he's going to press charges against the feisty Jersey Shore star.
"There were drinks on the table and she threw that in my face too. One of the drinks was filled with vodka and my eye is all f**ked up too," Jeff said.