Snooki: 'I'm Single And I'm Not Going To Get Married!'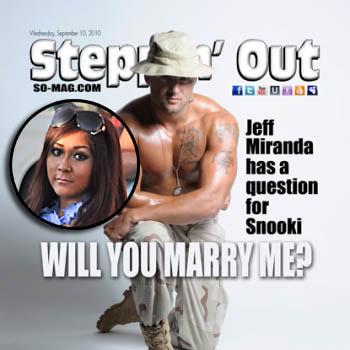 Looks like they won't be throwing rice at the shore anytime soon.
EXCLUSIVE: Snooki's New Man Had Restraining Order Filed Against Him
As RadarOnline.com was first to report, Nicole "Snooki" Polizzi's brand new boyfriend Jeff Miranda appears on the cover of September's Steppin' Out magazine posed on one knee, alongside text that reads, "Jeff Miranda has a question for Snooki: 'Will You Marry Me?'"
Snooki, 22, answered her Iraq veteran beau back via Twitter Tuesday, saying, "Just want to set the record straight. I'm single and I'm not going to get married!"
Article continues below advertisement
Don't expect Miranda, 24, to be too broken up by the Tweet: Miranda told Steppin' Out he knows the magazine cover proposal is a surprise, but "once she deals with the shock, I think Snooki will say yes. I really do.
"In fact, I know she'll say yes," Miranda told the magazine.
Only time will tell -- in the meantime, new episodes of Jersey Shore air on MTV Thursdays at 10/9c.
RELATED STORIES:
EXCLUSIVE: Snooki's Ex Says Ex-Girlfriend Jealous, Shoots Down Claims Of Abuse