Exclusive
EXCLUSIVE INTERVIEW: 'We Hope & Pray Lindsay Recovers' Says Lohan's Close Pal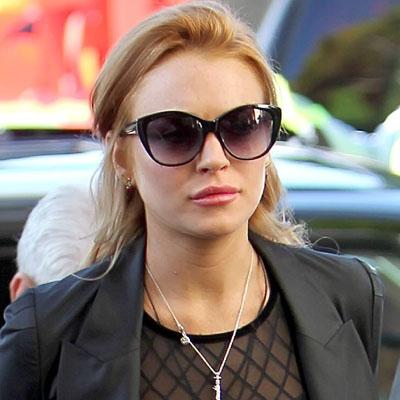 Celebrity photographer Tyler Shields has told RadarOnline.com that he's 'happy' that his friend Lindsay Lohan has checked into rehab ahead of her next probation hearing.
And he revealed that the Mean Girls star planned to enter a Southern California facility as she continues to battle her various addictions.
Lohan was recently released on $300,000 bail for her parole violation and is scheduled to appear before Los Angeles Superior Court Judge Elden Fox on October 22.
Article continues below advertisement
Shields - who has taken several controversial and erotically charged images of Lohan – told RadarOnline.com, "I was with Lindsay the other night after we took in a movie and she was doing well.
"The plan always was for her to go back into rehab and hopefully it will work for her this time around before her next court date.
"We all hope and pray that she can re-cover. I've always said that she is not a criminal, and that she needs rehab and not jail at this point in her life."
The 24-year-old is on a mission to try and re-vamp her party girl image since her latest setback when she failed a mandatory drug test when she tested positive for cocaine.
She was spotted at a homeless shelter over the weekend, and she's also been attending Alcoholic Anonymous meetings too.
Film projects like Inferno and One Night With You are on hold until her next probation hearing when Judge Fox will decide if she will be allowed to go out of state or not to work.
Article continues below advertisement
Inferno director Matthew Wilder told RadarOnline.com that he hoped the actress would get 'the space and time' she needed to make a full recovery this time around.
RadarOnline.com revealed how the actress spent her final night before rehab reading a self help book from inside her West Hollywood apartment.
Wearing a loose fitting black sleeveless dress with matching sunglasses, LiLo was snapped on her balcony at dusk reading The Power of Rest, written by Dr. Matthew Edlund.
Article continues below advertisement
In June 2007, Lindsay entered Promises Treatment Center in Malibu for six weeks. Her rep at the time Leslie Sloan's statement read, "On Friday, July 13, 2007, Lindsay Lohan successfully completed her 45 days of residential and extended care treatment at Promises."
In August 2007, the Freaky Friday star checked into Cirque Lodge Treatment Center in Utah for another six week program. After she left the facility on October 5, 2010, Dina told People Magazine: "I'm proud of her. She's moving ahead with her life. Things were getting out of control. She took action. She took responsibility. She really needed to heal."