Exclusive
EXCLUSIVE: Danielle Staub Says Her Spin-Off Will Be Better Than Bethenny's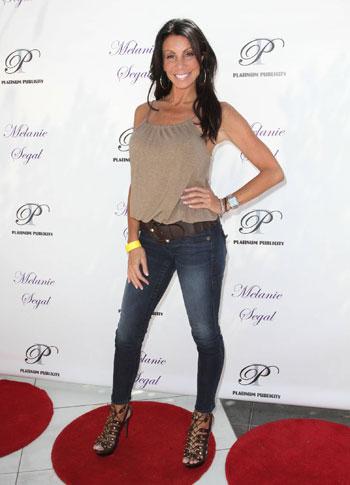 Article continues below advertisement
"It's going to be better because it's actually going to keep people awake and on the edge of their seats," Danielle told RadarOnline.com exclusively. "They're going to want to see what I'm doing, where I'm going, who I'm wearing, what I'm wearing, who I'm chewing up and spitting out, maybe who I'm dating, maybe who I'm not, what is going on in my real life … and the one thing people say, love me or hate me, I keep it real and you're paying attention.
"I already did the kid and get married before I was a housewife, no offense," she said with a chuckle. "…I've been told recently, 'You're not a housewife because you're not married.' Well, yeah, I was married and I think there is a house."
Does she think Bethenny- who has a successful spinoff following her run on the Real Housewives of New York- will give it a thumbs up or thumbs down?
"I don't really care what Bethenny says about me," she quipped. "I watched about five minutes of hers and that's all I can tolerate."
Article continues below advertisement
Danielle adds that her show will be "polar opposite" of the Jersey franchise, but won't be lacking any of the drama -- and likens herself to a popular soap opera legend.
"It's going to be all the drama and all my villainess! I am the Susan Lucci of reality and I'm okay with that. But a villain is not such an un-fabulous person," Danielle said. "Villains are kind of funny and horrible all in one and kind of sexy."
And it'll be all about "Danielle's mafia."
"The great thing about my show is that it's going to be my daughters, it's my friends, it's my family, it's the extension of my family, it's me maybe getting myself back into trying to date, it's me showing that musical side of me, my foundations, my charities… me being escorted by my entire team which makes me who I am…and my fabulous harem of gay husbands and how they affect and impact my daughters in our lives and how we entertain one another.
Article continues below advertisement
"I might chew people up and spit them out, but I do set it right. When I do something wrong and it's only going to take me but a moment to realize it's wrong and I'm the first one to admit it."
In addition to the spin-off, Danielle has another on-camera gig, only this time she'll be hosting a network show.
"It's going to be over the top and definitely something that I think people are going to be quite surprised that I'm going to be able to do and who I'm replacing."