Exclusive
EXCLUSIVE: 'Gatecrasher' Michaele Salahi Won Case Against Mother-In-Law For Over $14,000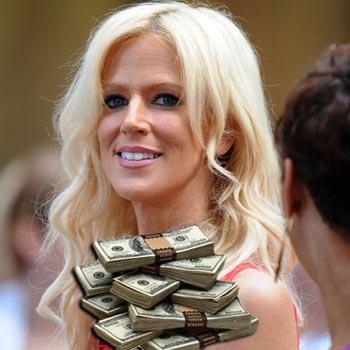 It seems that blood is not thicker than water, at least when it comes to the Salahi family, who has been in an ongoing feud for years over their Virginia winery. Real Housewife of DC star Michaele Salahi won a case against her mother-in-law Corinne for thousands in lost wages, RadarOnline.com has learned exclusively.
EXCLUSIVE DOCUMENTS: Read The Complaint
The controversial housewife filed a complaint with the Virginia Department of Labor and Industry in 2008 for $14,880 plus interest, and the investigation eventually ruled in her favor. However, Michaele says she got the run-around in regards to the payment awarded to her but decided to take the high road and drop the issue.
Article continues below advertisement
In documents obtained by RadarOnline.com, Michaele claimed she worked for the Salahi family from June 2007 to January 2008 "behind the bar on wine tastings and did payroll" at Oasis Vineyard. In a letter on behalf of Tareq's estranged mother, lawyers responded to the claim saying Michaele "added no value to Oasis Vineyard, Inc. and, even if she did, the claim for wages we reviewed is grossly inflated."
Article continues below advertisement
The letter also states that Michaele wasn't employed by Oasis Vineyard, Inc. and that it was under supervision of a court-appointed receiver who "did not authorize the hiring of Ms. Salahi and has previously rejected her claim. At the time, Ms. Salahi was working for a competing organization owned by her husband, Tareq Salahi, Oasis Enterprises, Inc, and/or for her own wine distributorship, Virginia Wine Country Distributors, Inc."
VIDEO: Whoopi & White House Gatecrasher Clash Backstage At The View
In response, Michaele wrote in an e-mail to the labor law rep, "I am sorry that they are not being honest with you that I worked EXCLUSIVELY for OASIS and there WAS NO TIME FOR ANYTHING ELSE...I have added Great Value to that company and to the expense of my own well being. My day's sic there from July - to January were LONG - just restoring the place from all the damage Corinne Salahi had done."
Michaele also went into detail about her contribution to Oasis Vineyards: served wine at bar, gave wine tastings, cleaned the premises, trained employees, worked daily on outstanding bills, took care of customers, etc.
The case was later closed in April 2009 when Oasis Vineyard filed for bankruptcy.
WORLD EXCLUSIVE: Read President George W. Bush's Letters To The Salahis