Exclusive
EXCLUSIVE: Danielle Staub Blasts Naomi Campbell's Defense Of Teresa Giudice; Calls It 'Stupidity'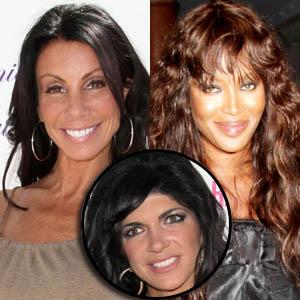 Danielle Staub, the Real Housewives of New Jersey star America loves to hate, is fighting back at comments made by feisty supermodel Naomi Campbell, who recently came to the defense of Staub's cast mate Teresa Giudice.
In an exclusive new interview with RadarOnline.com, Staub reacts to the Campbell-Giudice alliance.
On last week's episode of Bravo's Watch What Happens: Live, Naomi called into the show and took the side of Team Teresa whose bawdy behavior during the August 30 reunion episode (shouting frequent f-bombs, shoving host Andy Cohen, and even making a charge for Danielle) has been a hot topic.
Article continues below advertisement
"Well, I understood," Naomi said with a chuckle when Andy asked her about Teresa pushing him at the reunion. "She didn't see you at that moment. You mess with her family and that's what you get!"
But Danielle questions the source of the defense.
"Isn't that somebody that's physically attacked and abused other, let's see...women? Yeah, so her and Teresa do have a lot in common," Danielle told RadarOnline.com.
In 2007, the notoriously short-tempered supermodel was ordered to attend anger management classes and complete community service after throwing a cell phone at her maid. The following year she pleaded guilty for assaulting two police officers in London's Heathrow airport.
"I didn't mess with her family! I stated the truth," Danielle said. "Naomi, pay attention, please! I'm going to tell you the same thing I told Teresa. Pay attention before you make comments in stupidity."
Article continues below advertisement
The reunion rumble started when Danielle claimed Teresa didn't acknowledge the birth of her nephew and an enraged Teresa jumped up from her side of the couch and got just inches from Danielle's face screaming, "Do not bring up my family!"
Danielle has had enough of Teresa's outbursts.
"I did not comment on her family... I stated two facts this season: she is in foreclosure and... according to her sister-in-law, who was in direct contact with me along with her brother, she never said congratulations or acknowledged the birth of her nephew," Danielle said.
"If it wasn't true, why did Teresa fly off the couch? I didn't mess with her family. Messing with her family would mean that I did something. I didn't do anything.
"But she can sit there and bash me and attack me? Naomi, please, you and Teresa should definitely hang out."
Naomi even took it one step further, praising Teresa as a "role model": "She's a role model, a mother, she's a businesswoman, she's cooking, she cleaning... she's a wife, you know, she's the real deal."
Article continues below advertisement
Danielle thinks putting Teresa on that type of pedestal is funny.
"Naomi, what are you drinking? Put it down," Danielle laughed. "Please, role model? I've never seen her cook or clean a thing! Not once. Not once! Have you heard her husband three times on this season say, 'Tre, you don't cook.'
"I think they get each other because they both got bad, bad, bad tempers."
RELATED STORIES:
VIDEO: Teresa Gets In Danielle's Face On New Jersey Housewives Reunion