VIDEO: Teresa Gets In Danielle's Face On New Jersey Housewives Reunion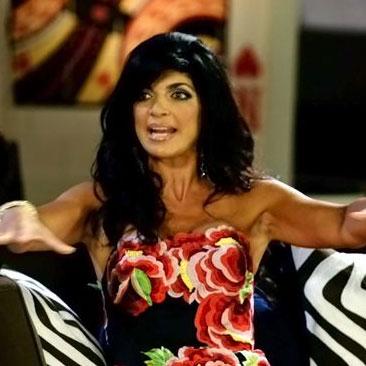 Time for Round 2 – Danielle and Teresa are at war – again!
The New Jersey housewives were armed and ready in part 1 of the season 2 reunion show on Monday -- and as usual the guns were pointed at Danielle right from the start.
Watch the video on RadarOnline.com
The state of New Jersey may have gained notoriety with another infamous reality hit Jersey Shore, but Teresa was quick to point out she isn't fond of the show -- and took aim at Danielle.
Article continues below advertisement
"I watched it (Jersey Shore) once and I wasn't too fond of it," Teresa said at the top of the show. "One girl said, 'Of course we had sex.' It's like she just met him! I'm not really into that. I'm old school, like you need to get to know someone, not after a week you sleep with them, like certain people in this room...I think Danielle can relate to that. 'Cause after a week you met Steve you slept with him in my shore house in front of your kids…You're a pig, you're disgusting and you're desperate."
And it was all down hill – and fists up – from there.
This season, fans were introduced to the newest additions of Teresa's and Jacqueline's families, which Teresa once again called out Danielle for not acknowledging with any well wishes.
But Danielle shot back questioning what Teresa's done in her own family: "Acknowledge your nephew…did you?... I can't bring up something that's the truth, but they can collectively lie about me? It's true, she didn't even acknowledge her nephew."
Article continues below advertisement
And faster than Teresa can swipe her credit card, she set off on a rampage after Danielle (and consequently host Andy Cohen!) as she shot up from her side of the couch and charged at her co-star shouting just inches from her face, "DO NOT BRING UP MY FAMILY! YOU F—CKING WHORE! DO NOT BRING UP MY FAMILY, YOU F—CKING B—CH" (unleashing the f-word a whopping 15 times!)
In an attempt to break up the femme fight, Teresa clearly didn't know her own strength and literally pushed Andy back into his seat as she heckled at Danielle who walked off stage: "Shut your mouth! You pig! She's a b--ch! You're a piece of garbage!"
And her grunting rant went on, "How dare she! I hate her! I wanna know who the f--k she's talking to!?...she's talking about my family," as Andy and Caroline held Teresa back.
"Andy, get her ass back here! The chicken s--t that she is, she runs away! I'll leave too!" Teresa yelled. "Believe me, I won't hit her, she's not worth it!"
"She was allowed to get in my face like that?" Danielle asked Andy after heading backstage to take a breather, let out a few tears, and console with her rumored girlfriend and "Real Close" duet partner Lori Michaels. "I could have possibly been hit in the face."