Real Housewives Of New Jersey Join Off-Broadway Show -- 'My Big Gay Italian Wedding'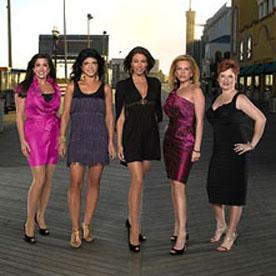 The women of The Real Housewives of New Jersey have joined forces with playwright Anthony Wilkinson for an off-Broadway production of My Big Gay Italian Wedding.
Teresa Giudice, Caroline Manzo, Jacqueline Laurita and daughters Lauren and Ashley are helping to kick off the show – which is being coproduced by former cast member Dina Manzo.
In a candid interview with Out.com the girls talk about their views on gay marriage in America.
Article continues below advertisement
"I think the state of gay marriage in the U.S. right now needs to have a little bit of a wake up call. We're all human beings and we have a right to live and love how we choose," Caroline said.
"I do have a gay brother… So I watched him grow up and I watched his heart hurt and I knew what he went through. To me, to do this, to support the cause is wonderful."
Jacqueline noted that she has gay family members and said, "I think if two people want to be together and they love each other, they should be together and they should be able to get married."
Dina said she decided to get involved after seeing Wilkinson's one-night-only in Staten Island, and urged him to do more with his play.
"You know, with gay marriage being in the forefront right now and the message is there in a great way because it's not shoving it down anyone's throat," she said to Wilkinson.
"Anyone can come see it, whether they support gay marriage or not, and at the end of this play they'll walk out of here maybe with their eyes open and say, 'You know what, everyone really does deserve to get married and everyone deserves to have this special bond between two people in love.'"
Article continues below advertisement
Ashley said, "My best, best, best friend is gay. I don't see the big deal in it at all… You can't choose who you love and it's stupid for someone to try to stop them."
Lauren also voiced her support saying, "My mom Caroline always told me you can't help how your heart feels. So if your heart feels something for someone who happens to be the same sex, there's nothing wrong with that."
The five women will debut their acting skills at Manhattan's Etcetera Etcetera theater from September 1 through September 4 with sales benefiting Marriage Equality New York.