VIDEO: Real Housewives of NJ Finale - The Calm Before The Storm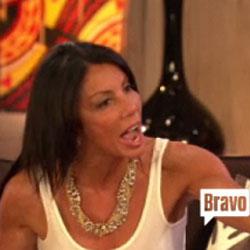 The Real Housewives of New Jersey's season finale Monday night saw Danielle Staub and Caroline Manzo attempt to end their feud, setting the stage for the show's upcoming two-part reunion.
The episode's climax occurred during a meeting between the two housewives at an empty restaurant, as Manzo said she was hoping to start anew with Staub, so long as she dropped charges against Ashley Holmes (the daughter of housewife Jacqueline Laurita) after a hair-pulling incident at a New Jersey country club.
Article continues below advertisement
Needless to say, things didn't go smoothly.
Real Housewives Of New Jersey Banned From Country Club
After Staub told Manzo, "I don't need you to validate my life," Manzo lost her cool, telling Staub her "whole life is a joke" and reassuring her, "When I called you garbage, I meant you were garbage."
That sets things up for the reunion show, which Bravo teased with a series of clips that lead us to believe it'll be the most explosive entertainment to come out of the Garden State since Tony Soprano retired (Sorry, Snooki).
At one point in the preview, we see housewife Teresa Giudice threatening Staub, telling her "B****, I'm gonna pin you down! Do not break up my family!" and "I f***ing hate you so much!"
The first of the explosive two-part reunion begins on Bravo next Monday at 10/9c.
Watch a preview clip of the reunion show on RadarOnline.com