EXCLUSIVE NEW DETAILS: Brad Pitt's Weekend In New Orleans; Resident Says 'He Gave Me A House'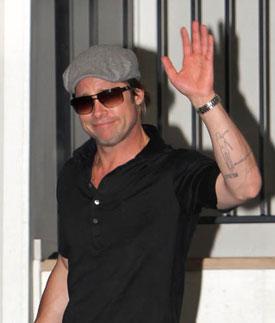 Brad Pitt has vowed never to turn his back on his adopted city of New Orleans, and RadarOnline.com has exclusive new details of the actor's visit there this weekend to mark the fifth anniversary of Hurricane Katrina.
The Benjamin Button star attended various events in The Big Easy to mark the anniversary of Katrina, including attending a private party in the lower Ninth Ward where his Make It Right Foundation has been building new homes since the disaster devastated the area.
Article continues below advertisement
And the multi-millionaire star took time-out to tell local resident and his friend, Melba Leggett Barnes, that he's committed to seeing the project through and helping with New Orleans' regeneration.
Melba - who introduced Pitt and New Orleans Saints' running-back Reggie Bush to the 250 crowd of locals and officials gathered for the tented event - believes that the star will keep his word.
She told RadarOnline.com: "Brad kept asking me 'was there anything I needed? How could he help?' But the truth is he has already done more than enough if it wasn't for his Make It Right Foundation, we would not be here.
"Brad loves New Orleans and he is a cool guy. He has given me a house that I will be in until I die and I will be forever grateful for that.
"More people are coming back all the time and the residents here are actively involved in the process too. After Katrina people were getting ripped-off all the time by corrupt contractors but now we advise them to go through The Make It Right Foundation if they need work done.
Article continues below advertisement
"We had a lot of fun at our event and Brad took time to talk with a lot of people and that was really appreciated.
"Angelina was not with him this time but, hopefully, we will get to see her over the holidays with her kids.
"They have visited our home before, and I like her she is really down-to-earth and their kids are very happy and fun-loving too. Brad really likes my 'corn-porn' (her special corn recipe) which I make with green onions and I want to give her the recipe.
"Brad and Angelina have a home in New Orleans, and I think it is important for them to spend time here and for their kids to learn about our history too.
"We still have a lot of work to do but I'm confident that in time the city and lower Ninth Ward will recover with people like Brad Pitt willing to help us out."
PHOTO: Tongues Are Wagging As Angelina Jolie Brings Kids To Visit 'Dad Brad' On Set
In 2006, Pitt's non profit foundation commissioned 13 architects to design affordable, eco-friendly houses and has since built nearly 50 eco-friendly homes in New Orleans Lower Ninth Ward which was devastated by Hurricane Katrina five years ago.
Article continues below advertisement
And the star is determined to keep-up the good work in the future. Whenever he visits the city he is often seen by the locals going on impromptu visits on his thrift store bike to the area which was totally flooded after the Industrial Canal levee broke on August 29, 2005.
In a recent interview with The Times Picayune newspaper Pitt opened-up about his work by saying:
"OK, I was naive, totally naive. I credit naivete with our success. I was also an opportunist. I saw this land, it was available, and I thought we could make a difference. Starting from scratch has its benefits. Too often we give disaster victims cheap building products, slipshod materials, and then put on top of them the burden of energy bills and medical bills... People in pre-Katrina had been sold cement slabs in the Lower 9th next to the levee. These folks were told it's all right to build homes, for example, on Tennessee Avenue. They were set up. I mean not necessarily intentionally, but through the negligence of levee maintenance. But, lo and behold, the Lower 9th is now the greenest — I don't even like the word green — it's the most high-performing clean neighborhood in the world, according to the Green Building council."