Brad Pitt & Angelina Jolie Win 'Break Up Lawsuit' Against British Newspaper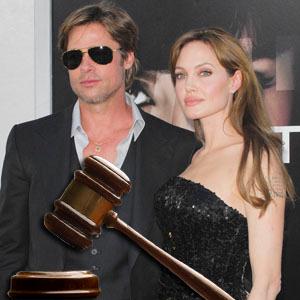 Hollywood super couple Brad Pitt and Angelina Jolie Thursday won an undisclosed sum in a privacy claim against a British newspaper, RadarOnline.com has learned.
The couple - who stepped-out happily together on the red carpet on Monday in Hollywood to promote Jolie's new thriller Salt - won the case against the News Of The World.
'Brangelina' sued the newspaper in January over a story saying the couple was separating and had agreed to custody arrangements.
Article continues below advertisement
Appearing in London's High Court, the couple's lawyer said that News Group Newspapers now accepted the allegations were "false and intrusive".
Neither Pitt or Jolie were present in court, and have accepted an undisclosed sum in settlement of their privacy claim against the newspaper.
The actors' action, for misuse of private information and breach of the 1998 Data Protection Act, wa s triggered by a front page story dated January 24 which had the headline "Pitts all over".
MORE ON:
News of the World
The article claimed that Jolie and/or Pitt had visited a divorce lawyer in December 2009, and that the couple had reached an agreement regarding the division of their assets.
In court, it was revealed that the divorce lawyer in question, had never even met Pitt or Jolie.
The power couple have several homes around the world, and have three biological and three adopted kids together although they are not married.