PHOTOS: Angelina Jolie Makes Surprise Visit To Bosnia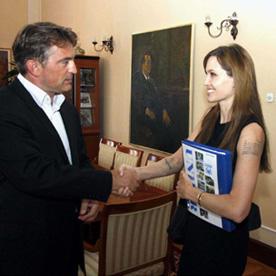 In her role as Goodwill Ambassador for the UN High Commissioner for Refugees, Angelina Jolie had a personal meeting with the president of Bosnia Hercegovina Saturday, and RadarOnline.com has all the pictures of their historic summit.
Jolie sat down with Jeljko Komsic in Sarajevo to discuss the fate of over 100,000 refugees who are still displaced 15 years after the brutal civil war that tore apart their country.
Article continues below advertisement
"I hope that there will soon be practical steps to improve these people's lives," Jolie said in a statement released by the UNHCR.
Angelina, who had her twins along for the trip, arrived in Sarajevo by private jet from Budapest on Friday. She was in Hungary for the opening of her latest spy thriller, Salt.
Angelina and Brad Pitt were last in Sarajevo in April, but he stayed home minding the couple's older four kids, for this trip.