EXCLUSIVE: Kim Kardashian's $20 Dinner For Two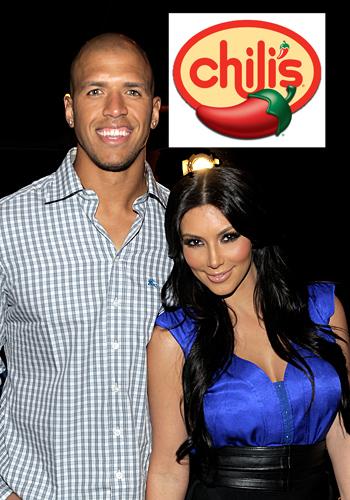 Even celebrities are pinching their pockets in this tough economy. Just ask Kim Kardashian.
She dined at Chili's in Oxnard, CA Thursday night with her new beau, Dallas Cowboys wide receiver Miles Austin, RadarOnline.com has learned.
PHOTO: Kim Kardashian Watches Her New Beau's Football Practice
"I can't believe it. Kim Kardashian eating at Chili's," an eyewitness tells RadarOnline.com. "It was just funny seeing her get out of her big Bentley and walk into Chili's."
Article continues below advertisement
Kim visited Austin several times during the two weeks the Cowboys were at their summer training camp in Oxnard, about an hour north of L.A.
Fine dining choices are a bit limited in the area but we're told Thursday nights are big at Chili's and the $20 dinner for two is a hit.
Wonder who paid the bill?
Related Stories:
Kim Kardashian Talks About The Biebs On Lopez Tongiht