PHOTO: Kim Kardashian Watches Her New Beau's Football Practice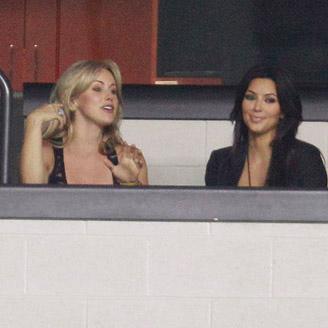 Kim Kardashian may have proclaimed she's still single recently, but things clearly are heating up between her and Miles Austin. The brunette beauty was spotted on the sidelines in Texas as Austin practiced with his team the Dallas Cowboys on Sunday.
The socialite kept company with another Cowboys girlfriend: she was spotted chatting with former Miss Missouri Candice Crawford (and sister of actor Chace Crawford), who is dating the team's quarterback Tony Romo.
Article continues below advertisement
"Thanks for giving me 'twitter 101!' I'm slowly getting the hang of it ;)," Candice wrote to Kim on her Twitter page.
Unlike Romo's ex Jessica Simpson, Crawford has yet to draw the ire of the Cowboys fans who called Simpson a jinx on the team.
Outspoken Cowboys owner Jerry Jones joked he "almost swallowed" the sandwich he was eating when he saw the reality TV superstar grabbing a bite with his prized quarterback-wide receiver tandem.
Prior to Austin, Kim dated New Orleans Saints running back Reggie Bush for more than two years.Shortly after his team clinched the Super Bowl, the relationship had fizzled.