PHOTOS: Kim Kardashian's Fender Bender During Entourage Shoot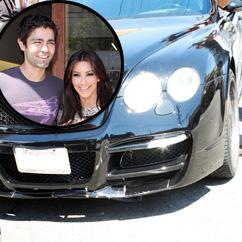 I hate when that happens.
One minute you're shooting a cameo for a hit TV show, only to later find out that your Bentley's been nicked up by another car. That's what happened to Kim Kardashian on Monday while she was shooting a scene for HBO's Entourage at a boutique on trendy Robertson Boulevard in Los Angeles.
Apparently, while Kardashian was inside the shop with Entourage star Adrian Grenier, someone backed into her front bumper, causing minor damage to the luxury automobile.
Article continues below advertisement
Police tell RadarOnline.com that no report was filed, since there were no injuries in connection with the incident.
The socialite made no mention of the inconvenience on her Twitter page late Monday, Tweeting: "tummy ache..falling asleep...long day ahead of me! tweet dreams"
The new season of Keeping Up With The Kardashians begins Sunday at 10/9C on the E! network.