Exclusive
EXCLUSIVE: Jersey Shore's 'The Situation' - New Face Of Protein Infused Vodka Brand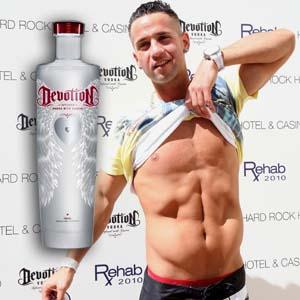 Mike "The Situation" Sorrentino is capitalizing on his hard-partying Jersey Shore image by endorsing Devotion Vodka.
RadarOnline.com has learned exclusively that "The Situation" is the new face of the only protein infused vodka on the market because he feels it works well with his image.
"Mike loves it because he says you can keep your body in the best shape possible while being able to party at the same time," a close friend of The Situation tells RadarOnline.com.
Article continues below advertisement
"He just signed with them over the weekend, and he's really psyched about it."
Jersey Shore is in full swing filming season three so sources tell RadarOnline.com that Mike had to send his brother Mark Sorrentino to Las Vegas to ink the deal.
"Mark went to Vegas for Mike since he's not allowed to leave the Jersey Shore house," the close friend said. "Mark is the CEO of MPS Entertainment so he signed off on the deal with the company."
Devotion vodka is described on their website as "the first and only vodka using casein the predominant phosphoprotein that accounts for nearly 20% of proteins in cow milk and cheese to smooth out the vodka and give it its distinct chardonnay like finish."
As the new face of Devotion, a large shipment was delivered to the Jersey Shore house where they're taping to get the party started.
The back of the bottle seems to sum it up best: "If you're gonna be bad, you might as well be good."