Exclusive
EXCLUSIVE PHOTOS: Jersey Shore's New Party Animal Falls Out Of Nightclub At 3 Am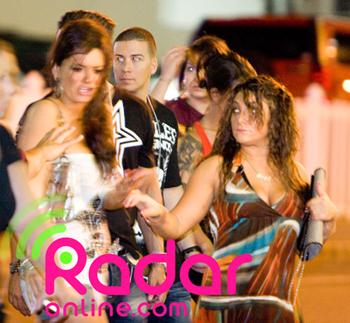 Move over Snooki, there's a new wild child on the Shore!
RadarOnline.com has obtained exclusive photos of new cast member, Deena Cortese, stumbling out of 'Karma' club, following an alcohol fueled night on the town.
Wearing a revealing mini dress, the petite brunette gave her fellow Jersey Shore housemates a run for their money as she was picked up off the floor and led home.
"The whole crew minus Sammi was out together. They left the nightclub at about 3am," said an onlooker. "They had been partying for more than four hours and Deena was clearly the most drunk."
Article continues below advertisement
SEE THE PHOTOS: Deena The New Jersey Shore Cast Member Cuts Loose
The onlooker goes on to say, "She could hardly walk and at one point fell over. Vinny had to help her to her feet. It was embarrassing."
Snooki paid no attention to her BFF's behavior, leaving cast member J-WOWW to pick up the pieces.
"She was yelling at Deena," said the eyewitness. "She kept saying, 'What the f*** Deena? Get yourself together.' But she didn't care. She just screamed back telling her, 'You all don't know me. Everyone is different.'"
The messy scene was captured by the reality show cameras, which continued rolling as J-WOWW and 'The Situation' helped her walk back to the house.
Deena has previously boasted that her average night out includes 'a lot of shots, dancing on bars, meeting boys and being loud and obnoxious.'
RELATED STORIES: