EXCLUSIVE PHOTOS: Back To The Future; Jersey Shore's 'The Situation' Bringing Back Retro Suede Jumpsuit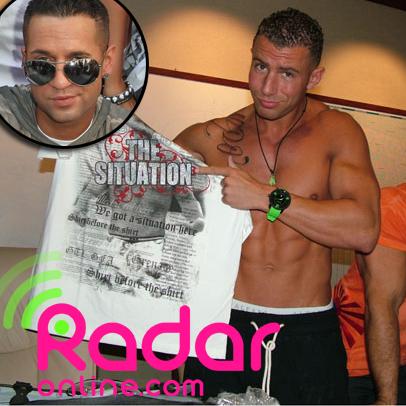 Forget Jenny From The Block in her jumpsuit, The Situation is bringing back the skintight ensemble!
After Jersey Shore had a whopping 5.5 million viewers last week, Mike "The Situation" Sorrentino has decided to take full advantage of his sky-rocketing fame by releasing a hot new clothing line.
RadarOnline.com spoke exclusively to The Situation's brother, Marc Sorrentino, about all the TV reality stars cutting-edge duds.
Article continues below advertisement
"The idea we had was to make a clothing line that shows our old Italian heritage combined with the most stylish clothes of today," Mike's big brother told us.
"People are going to be really excited about our retro suede jumpsuits... we're bringing them back because they were worn by the most stylish Italians."
The Situation's company MPS Entertainment have been working closely with Damien Kugzner of Serious Pimp <www.seriouspimp.com> of Irvine California to create a line that will be appreciated by all his fans.
"We'll have casual, colorful '80s-style sweat suits that can be worn to the gym or for everyday and a great selection of T-shirts, sunglasses and hats," Marc told RadarOnline.com.
"Everyone can create their own 'Situation' and be their own man."
While The Sitch shoots his third season at the Shore, Marc is working behind the scenes in California, finalizing the designs and preparing for a smooth release.