Exclusive
EXCLUSIVE: Gay Folk Hero Flight Attendant Still Hitched To Vegas Bride - 15 Years After Split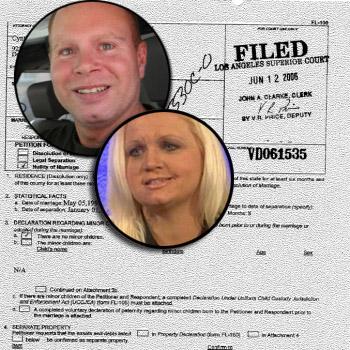 Steven Slater, the folk hero flight attendant who went on a tarmac tirade, got hitched -- to a woman -- in Las Vegas as a teenager, RadarOnline.com has exclusively learned.
But the marriage hit turbulence after just eight months!
EXCLUSIVE COURT DOCUMENTS: Gay Folk-Hero Flight Attendant Still Hitched To Vegas Bride
Yet, according to court documents, it took the mad-as-hell gay flight attendant's 'wife' until 2006 -- 15 years after she said 'I Do' -- to file papers to have their union annulled.
Article continues below advertisement
Before the JetBlue flight attendant blew a fuse, grabbed some beer and bolted out an emergency slide at John F. Kennedy Airport in New York Monday, he married Cynthia Susanne Niethamer on May 5, 1991.
The two met had when they were 16 while working at a JC Penney store.
But the high-school sweethearts separated on January 1, 1992, according to a petition for 'Nullity of Marriage' filed in Los Angeles four years ago.
The documents show Niethamer cited 'Fraud' as the reason.
Law experts tell RadarOnline.com there are a number of possibilities as to why Niethamer claimed 'Fraud' as the root of their break-up.
FEATURE: Unfriendly Skies: Stars Who Have Had Run-Ins with Flight Attendants
"If it's related to sex, for example the male was gay and the woman didn't know, she could be citing fraud as a grounds for divorce," said attorney John Burkman.
Article continues below advertisement
"The other angle is that a woman as leverage will tell the court about a "fraud" her husband might be involved in, for example, in business."
"It depends what the alleged 'fraud' is all about."
However, the couple isn't even divorced, as court records show the case is still 'pending'.
After he was bonked in the head by a bag, Slater stunned JetBlue passengers by spewing profanity and ranting about quitting as the flight from Pittsburgh to New York pulled up to the air-bridge.
COURT DOCUMENT: Steven Slater's Criminal Complaint
"To the f ***ing a** hole who told me to f ** k off, it's been a good 28 years," Slater, 38, supposedly said.
"I've had it. That's it."
After the incident, Slater reportedly went home to bed with his current boyfriend, Kenny Rochelle, before cops turned up to arrest him.
He has been charged with criminal mischief and reckless endangerment after his odd stunt. Slater has been ordered to appear in court September 7.