Exclusive
JET BLUES: Steven Slater's Attorney: 'He Needs To Decompress'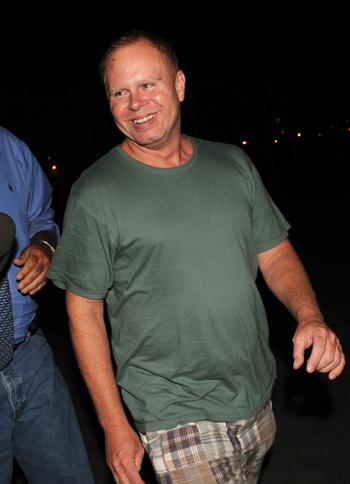 Steven Slater, the now infamous JetBlue flight attendant who freaked out on a passenger for not following the rules, is NOT enjoying his newfound celebrity, his attorney told RadarOnline.com exclusively.
"He wants to stay out of the limelight as much as possible right now," attorney Howard Turman told RadarOnline.com. "He really needs to decompress."
As RadarOnline.com reported Thursday, Slater told media reporters that he is feeling "overwhelmed" by the attention he's received since his arrest. "I've got a lot to do. A lot on my plate and a lot to do," he said. "I'm a little overwhelmed right now…it's something I have no idea what's going on out there."
Article continues below advertisement
Turman told RadarOnline.com that he is representing Slater as a legal aid attorney because, at the moment, the rogue flight attendant can't afford a private one. While he says he has spoken to his client, Turman says he is still trying to schedule a meeting with Slater to "evaluate his financial needs."
"When I meet with Steven I'll decide whether or not he needs me to continue to represent him," Turman told RadarOnline.com, adding that Slater is "not looking for work at this time."
As RadarOnline.com previously reported, Slater's story began aboard a JetBlue flight from Pittsburgh to New York on Monday. The plane landed at New York's JFK airport, and a passenger prematurely stood up and collected her bags from an overhead compartment, prompting Slater to warn the passenger to stop.
COURT DOCUMENT: Steven Slater's Criminal Complaint
The two allegedly argued before one of the bags came loose and hit Slater on the head. The passenger would not apologize.
Article continues below advertisement
That's when the now world-famous meltdown began, as Slater grabbed the plane's PA system and shouted: "To the expletive who just told me to expletive off, it's been a good 28 years!" He then activated an emergency slide, grabbed a beer and slid off the plane.
RELATED STORIES:
Steven Slater's Ex-Wife Says "He's A Great Fantastic Person"
Before The JetBlue Meltdown: Steven Slater Described Himself As A Bag Nazi