Exclusive
EXCLUSIVE: Flight Attendants To Raise Money For JetBlue's Steve Slater Legal Fees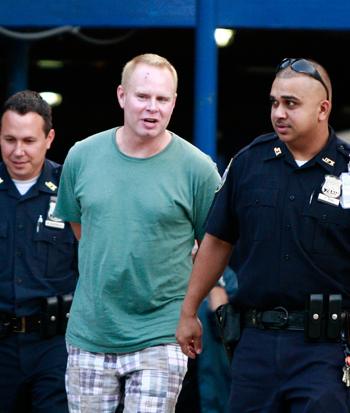 Steven Slater, the JetBlue flight attendant who was arrested on Monday for his onboard antics, has become a hero amongst his flight attendant brethren and now they are banding together to try to help him.
RadarOnline.com has learned that Delta flight attendants, who considers Slater their hero, is now creating T-shirts that reads, "Slater is our Hero" on the front and "Got Beer?" on the back and intends on selling them online beginning Wednesday.
Article continues below advertisement
The T-shirts will be selling for $10.00 with 10 per cent of the proceeds going towards Slater's legal.
Slater made a name for himself when he was arrested Monday after cursing at passengers over the PA system and then opening the airplanes emergency exit ramp, grabbing two beers and sliding down.
One flight attendant tells RadarOnline.com the whole industry is buzzing about the incident: "Trust me what he did is EVERY flight attendants dream! He really is a hero to us believe it or not, he lived our dream!"
COURT DOCUMENT: Criminal Complaint Against Steve Slater
Another flight attendant, who has worked with Slater tells us, "Everyone has been working super hard this summer, business is picking up again for the first time since 9/11 cut backs, it's so crazy. We think he just lost it. He really is a super nice guy."
Slater has yet to make his $2,500 bail and remains in custody.  He faces up to seven years behind bars and is due back in court on September 7.