VIDEO: JetBlue Flight Attendant "A Little Overwhelmed" By All The Attention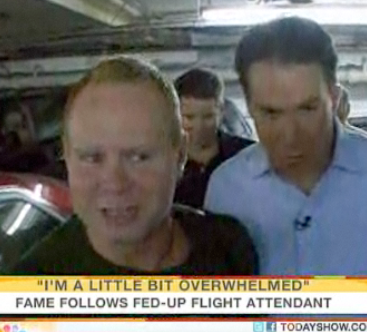 Steve Slater is "a little overwhelmed right now," and we can't say we blame the guy.
Watch the video on RadarOnline.com
America's newest instant celebrity, who has more than 110,000 Facebook users supporting him on a fan page, spoke exclusively with MSNBC's Jeff Rossen Wednesday as he was leaving a friend's home where he was looking for some refuge from the limelight.
"I got a lot to do," Slater said. "A lot of my plate and a lot to do. I'm a little overwhelmed right now... its something I have no idea what's going on out there."
Article continues below advertisement
When asked him if he had any regrets, the JetBlue flight attendant, described by some as America's newest folk hero, smirked at Rossen and strolled off into the New York night, where more reporters and photographers awaited him.
The incident, as RadarOnline.com previously reported, began after JetBlue Flight 1052, traveling from Pittsburgh-to-New York on Monday. The plane landed at New York's JFK airport, and a passenger prematurely stood up and collected their bags from an overhead compartment, prompting Slater to warn the passenger to stop. The two argued before one of the bags came loose and hit Slater on the head, to which the passenger would not apologize.
That's when the now world-famous meltdown began, as Slater grabbed the plane's PA system and shouted: "To the expletive who just told me to expletive off, its been a good 28 years!" before activating an emergency slide, grabbing a beer and sliding off the plane.
VIDEO: JetBlue Flight Attendant Soaks Up Limelight As Personal Woes Become Public
He was later arrested at his Queens, New York home on charges of reckless endangerment and other offenses, and has been suspended from his position at JetBlue upon further investigation.