VIDEO: JetBlue Flight Attendant Soaks Up Limelight As Personal Woes Become Public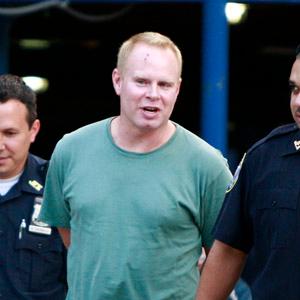 Steve Slater's 15 minutes of fame kicked into high gear upon his release from jail in New York Tuesday night, as the beaming JetBlue flight attendant was mobbed by reporters and cameras intent on getting a piece of the man being described by some as America's newest folk hero.
Watch the video on RadarOnline.com
"It seems like something here has resonated with a few people... it's kind of neat," Slater said, on the day more than 80,000 Facebook users joined a group supporting him as his antics became the talk of the country.
Article continues below advertisement
Asked if he was going to lose his job, Slater nonchalantly replied, "More than likely."
Slater added that most passengers are great, and that he wanted to go home and bathe.
More news has surfaced in the past day about Slater indicating that he had stressors in his life prior to Monday's incident, including that he's recovering from alcoholism, and his mother is suffering from cancer.
The incident, as RadarOnline.com previously reported, began after JetBlue Flight 1052, traveling from Pittsburgh-to-New York on Monday, landed at New York's JFK airport. A passenger prematurely stood up and collected his bags from an overhead compartment, prompting Slater to ask the passenger to stop. The passenger refused and cursed at Slater, and as the two argued, one of the bags came loose and bopped Slater on the head.
VIDEO: JetBlue Flight Attendant -- "I'm A Hero"
Slater's request for the passenger to apologize fell on deaf ears, and that's when his meltdown began, as Slater grabbed the plane's PA system and shouted: "To the expletive who just told me to expletive off, its been a good 28 years!" before activating an emergency slide, grabbing a beer and sliding off the plane.
He was later arrested at his Queens New York home on charges of reckless endangerment and other offenses, and has been suspended from his position at JetBlue upon further investigation.