Exclusive
EXCLUSIVE: JetBlue Flight Attendant Took A Five Year Break From Flying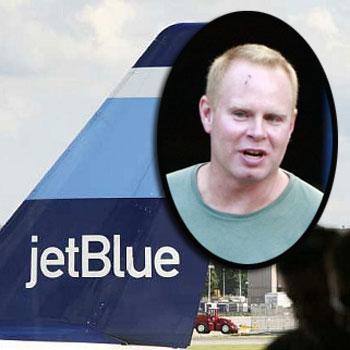 Steven Slater- the JetBlue flight attendant who was arrested on Monday after cursing at passengers and sliding down the emergency exit slide- had taken a five-year break from the airline industry before joining JetBlue, RadarOnline.com has learned.
"Back flying after five years off the job and having a ball," he wrote cheerfully on one of his Myspace page. "If I am on the ground, I am probably in my humble home in the 'burbs doing something domestic and trite like vacuuming. Or dining, as I just love to dine. Which leads to the gym, to offset the dining. Big fan of sand and sun, I am often found on the beach or in a park, anywhere I can catch some exercise and a few rays. My airline affiliation allows me amazing travel privileges, and I love to max it out with trips around the world, sometimes on a moment's notice! Let's go!"
Article continues below advertisement
VIDEO: Flight Attendant Loses It - Curses Passengers & Exits Plane Via Slide
Prior to his JetBlue job which he began in January 2008, Slater was a flight attendant for Delta from 1997 to 2002. He has also worked for TWA. According to a resume he posted online, Slater spent his hiatus from flying by working in the retail industry. For two years from May 2003 to 2005, he was a Burberry Accessories Shop Manager at Bloomingdale's/Burberry. He does not account for the other years he spent away from the airline industry.
Slater seemed to enjoy his time back in the skies despite the not always exotic destinations he was sent to:
"Well howdy friends and loved ones! Thanks for stopping by my little piece 'o the web! Chances are I am flying 35, 000 feet somewhere over the rainbow on my way to some semi-fabulous JetBlue Airways destination! Truly, some are better than others. But I am enjoying being back in the skies and seeing them all."