VIDEO: Steve Slater's Ex-Wife Says He's "A Great, Fantastic Person"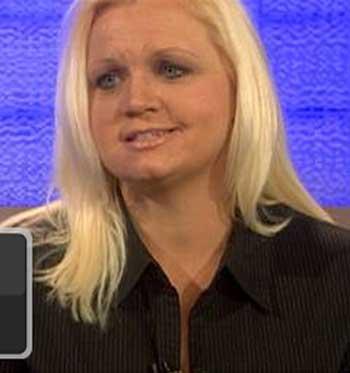 Steve Slater's ex-wife Cynthia Susanne told The Today Show Thursday that her ex-hubby's a "consummate flight attendant" and a "stellar individual and a gentleman" who must have been provoked after a testy run-in with a rude passenger, to curse over the plane's PA system, activate an emergency slide, grab a beer and slide off the plane.
Watch the video on RadarOnline.com
Susanne was high school sweethearts with Slater -- the JetBlue fight attendant whose meltdown has become the talk of the country -- and their marriage lasted less than a year.
Article continues below advertisement
VIDEO: JetBlue Flight Attendant "A Little Overwhelmed" By All The Attention
After a passenger told the NBC show in a phone interview that Slater had been grouchy while tending to passengers on Monday's flight, Susanne said that as well as she knows the 38-year-old New Yorker, she does "not believe that he was rude to anyone."
Asked about the reports that Slater is a recovering alcoholic, Susanne said she doesn't "believe Steven to have a problem with alcohol or substance abuse ... he handled it beautifully if that's the case. Like I said, he's just such a great, fantastic person."
Susanne said that the meltdown must have been an "indicative sign of how frustrated he must have been -- I'm going to go out on a limb and say that this passenger was a nightmare."
Susanne said that flight attendants should be treated better than what she's witnessed.
"They are not waitresses of the sky," she said. "Not to serve you peanuts, but to help get you off that plane if there's an emergency ... they are there to save your life. They should have that respect."
Susanne said she think Slater is "fantastic -- I know he will handle this with all the grace and humility he has. He's in the bubble right now -- I know he will come through this just fine."
Visit msnbc.com for breaking news, world news, and news about the economy