EXCLUSIVE: 'Big Easy' Couple Hopes To Roll Out The Welcome Mat For Brad & Angelina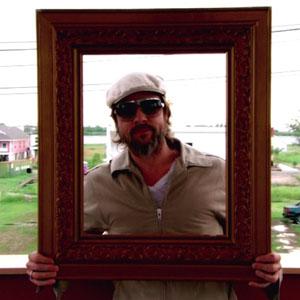 New Orleans residents Baxter Barnes and his wife Melba Leggett Barnes hope to roll out the welcome mat for 'Brangelina' and their kids this weekend, the couple exclusively tells RadarOnline.com.
Brad Pitt has a home in New Orleans' historic French Quarter, and is already in the Big Easy to mark the fifth anniversary of Hurricane Katrina. It's not known if his partner Angelina Jolie - who's been traveling the world to promote her thriller Salt - would be joining him.
Article continues below advertisement
Baxter and Melba - who received a new home from Pitt's Make It Right Foundation - have become good friends with Pitt and Jolie, as well as their kids; the couple even helped out with Spike Lee's new documentary If God is Willing and Da Creek Don't Rise.
The acclaimed director invited them to the New Orleans premiere of his HBO documentary about New Orleans post Katrina and the BP oil leak crisis after they let him film Pitt in a self-portrait pose behind their home.
PHOTO: Tongues Are Wagging As Angelina Jolie Brings Kids To Visit 'Dad Brad' On Set
Baxter explained: "I was watching a basketball game over the summer when somebody knocked on the door and it was Spike Lee.
"He asked me if he could film around the house, and the next thing I knew Brad jumped-out of an SUV and I burst out laughing.
"They filmed several shots around our home and at the other houses which have been built here and Spike invited us to the New Orleans premiere which we attended earlier this month.
Article continues below advertisement
"Brad was his usual laid-back self, and asked how we were doing before going about his business.
"I heard that he might be in town for the Katrina anniversary, and if he and Angelina come round with their kids they will be very welcome.
"My wife always looks forward to seeing them and they seem to really like her cooking too.
"But they tend to visit us and the other residents at quieter times when there is not a lot of publicity surrounding them, so, we will just have to wait and see.
"They are both genuine and down-to-earth people and if were not for them we, like a lot of other people, would not have homes back in New Orleans."
Their $150,000 environmentally friendly house was one of the first to be built by Pitt's foundation after Hurricane Katrina destroyed the lower Ninth Ward of New Orleans.
Several of their neighbors drowned in the hurricane and they ended-up living in a trailer before the Make It Right Foundation stepped in and started to rebuild much safer homes.
Article continues below advertisement
But as hurricane season reaches it's most dangerous period Baxter is confident that his new home could withstand another major weather event.
VIDEO & PHOTOS: Angelina Jolie & Kids Arrive In Japan To Promote Salt
He added: "The house is raised off the ground and is built on hydraulics so it would sway in any high winds in addition there is foam padding built into the base of the building to absorb any water.
"New Orleans still has a long way to go to get back from Katrina but things are moving in the right direction thanks to guys like Brad Pitt."
In 2006, Pitt's non profit foundation commissioned 13 architects to design affordable, eco-friendly houses and has since built 30 in New Orleans Lower Ninth Ward which was devastated by Hurricane Katrina five years ago.
Related Stories: