Accused Craigslist Killer Wrote Ex-Fiancee's Name On The Wall In Blood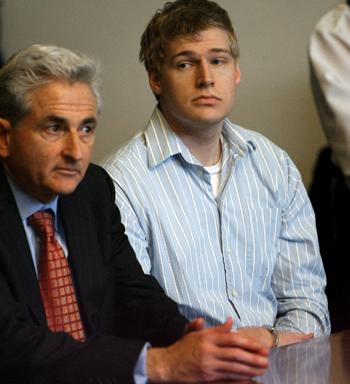 Accused Craigslist killer Philip Markoff took his own life Sunday and RadarOnline.com has learned that before his suicide, he wrote his ex-fiancee's name on the wall of his prison cell in blood.
In a disturbing discovery, law enforcement officials associated with the case say Markoff wrote the name "Megan" and the word "pocket" on his Boston jail wall.
Markoff was engaged to Megan McAllister and the two were set to marry in August 2009 before he was fingered in a string of crimes stemming from Craigslist.
Article continues below advertisement
The 24-year-old was scheduled to go on trial in March 2011 for allegedly killing Julissa Brisman in April 2009 at a luxurious Back Bay Hotel, a woman he had allegedly met through the Craigslist website.
Autopsy To Be Performed On 'Craigslist Killer'; Expected To Confirm Suicide
Markoff was also charged with robbing Trisha Leffler at gunpoint at a Westin Hotel in Boston on April 10, 2009. Leffler, of Las Vegas, was robbed of $800 in cash and $250 in American Express gift cards and was allegedly bound and held at gunpoint.