The Downward Spiral Continues: Shameless Scott Disick Invites Fans To 'Come Party With Me' In Vegas Amid Bombshell Breakup With Kourtney Kardashian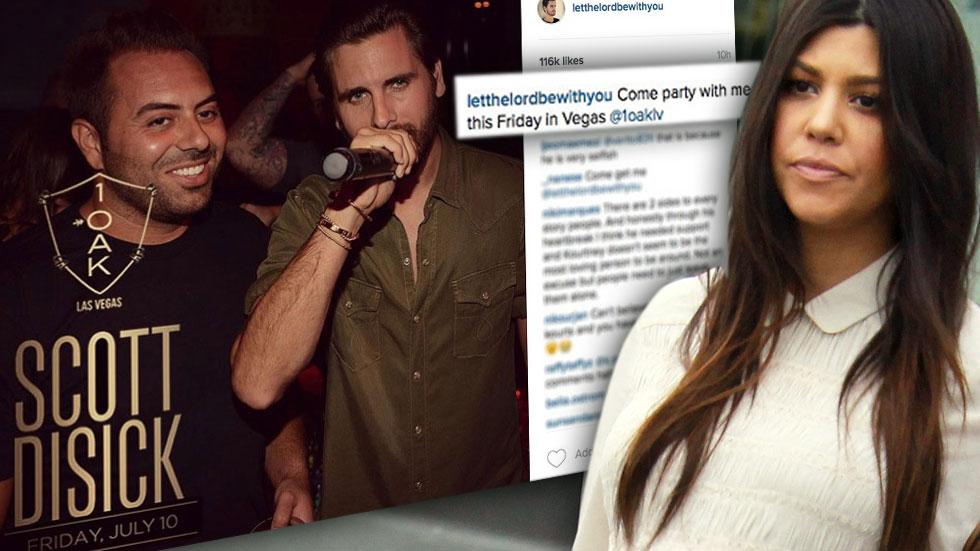 Scott Disick keeps partying during his darkest days, as "The Lord" invited fans to a Las Vegas bash Tuesday, as his ex Kourtney Kardashian embarks on a life without him in it.
Disick posted the invite to 1OAK late Tuesday -- telling followers, "Come party with me this Friday in Vegas" -- as sources close to the 32-year-old told RadarOnline.com that the father-of-three could be spiraling toward a tragic end if he continues with his fast-paced party life.
Article continues below advertisement
A user under the handle "bimbimnagato" singled out Scott as a "big a** baby" who "had three kids and barely showed interest in his third being born."
User "sarahmorrisonstoker" wrote: "Wow. Shame on you. Go the f@#& home and start working on becoming a better person and father. There is more to life than partying with sl*tty girls trying to get a free drink or a pill. Get help."
A more sympathetic user under the handle "realitywoman" posed the question, "Wouldn't it be better to stop partying and go see your kids? I hope you stop yourself before it's too late."