SECRET STROKE LEAK SABOTAGE: Obama Staff Dropped Bombshell Hillary Medical Details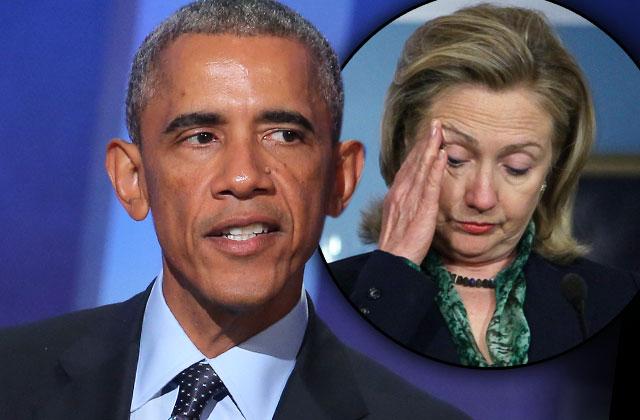 One of President Obama's senior advisors leaked sensational details of Hillary Clinton's secret battle with TWO mini-strokes during her tenure as Secretary of State, RadarOnline.com has exclusively learned.
Details of Hillary's secret stroke crisis was first mentioned OPENLY amongst high-ranking Democrats in February last year, insiders told Radar.
One of those who tattled held a senior position in the Obama administration.
Article continues below advertisement
"It's true," one source — who spoke DIRECTLY to the individual who brazenly disclosed the information — told Radar exclusively.
"This is not some right-wing media diagnosis. The truth is Hillary suffered two strokes while in office. They were both hushed up."
Though President Obama lavished praise on Hillary at the DNC convention, telling Americans he was "ready to pass the baton" to the nominee, the leak of medical information was an apparent act of "sabotage" as part of an ­ongoing feud between the two Democrat factions — the Clintons and Obamas.
The families have had a tempestuous relationship dating back to the 2008 Democratic presidential campaign.
However, the deliberate behind-the-scenes chatter about her medical condition raises three crucial questions. First, what were officials trying to accomplish through the private blitzing of Hillary? Second, were they doing it on the orders of their boss?
At the time, Obama and his camp were said to desperately prefer Vice President Joe Biden as nominee over Hillary, Radar has been told.
Article continues below advertisement
And two years later, the politician claimed she merely slipped or tripped when she collapsed while boarding a flight in Yemen.
But Radar has been told that fall was actually due to a mini-stroke!
And Hillary orchestrated yet another massive cover-up following her frightening collapse at her Washington, D.C., home in 2012. That time she hit her head.
The offcial word was that Hillary suffered a concussion and a blood clot formed between her brain and skull.
Article continues below advertisement
But insiders say that was a lie. She was desperately hiding from the public the alarming truth that she'd suffered another stroke more serious than the first.
"That was the last thing the Clintons would want the public to know," said an insider.
At the time, Hillary tried to downplay her problems by returning to work just days after being hospitalized.
"But it really took her six months to recover from the health crisis," the source said.
This is not the first time Team Obama has been accused of plotting against Hillary.
President Obama's senior adviser Valerie Jarrett leaked details of Hillary's private email use through people outside the ­administration, so the story couldn't be traced to her — or the White House — the New York Post reported in March 2015.